Written by Greg Ellifritz
The single most common question I receive from my readers is about holsters. It seems that everyone wants to know what holsters I wear and which holsters I consider "best."
Most folks who have been carrying for awhile will gravitate towards the inside-the- waistband (IWB) holster for optimal comfort and concealment. I've tried almost all the good IWB holsters, both behind the hip versions and appendix versions. I now carry almost exclusively in the appendix position, but I have IWB recommendations for those who like to carry behind the hip as well. There are probably dozens of other great holsters out there, but these are the ones I find myself carrying most often.
I truly believe that Spencer Keepers makes the best appendix carry IWB holster on the market. It's the only AIWB holster that I would consider wearing in a high round count shooting school. The design features make it much safer and more secure than other holsters on the market.
I've previously reviewed Spencer's Keeper holster and Errand holster. Those are the two holsters I end up carrying over 90% of my off duty hours. I use the Keeper for my Glock 19 (my primary CCW gun). When I want to go a little lighter, I use the Errand holster with my S&W Shield. I've lately been carrying the Keeper light as well. It's very similar to the Keeper holster, but uses a clip similar to the one used on the Errand for easier on and off access. I like it a lot. While the Keeper is primarily an AIWB holster, the Errand and the Keeper Light can also be carried behind the hip.
Spencer's holsters are expensive. They often are back ordered and require a little waiting to get. The expense and the waiting is worth it.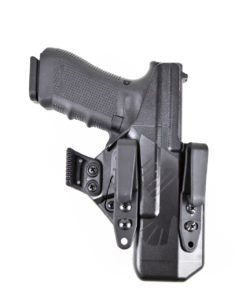 The next best AIWB holster behind Spencer's product is the Raven Eidolon. For me, it is just slightly less comfortable and concealable than the Keeper, but very close. If I couldn't afford Spencer's holsters, I would pick the Eidolon without a doubt. It's a great holster and is extremely adjustable for height cant and concealment. You won't find a better AIWB holster under $100.
While the Eidolon is primarily an appendix holster, it can also be used behind the hip.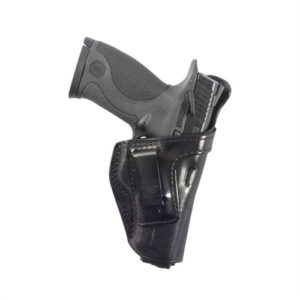 Before I converted to appendix carry, the Alessi Talon was my IWB holster of choice. It's an older design, but still works great. At one time, this was the issue holster for all the armed foreign CIA field officers operating internationally.
I like the holster primarily for it's quality construction and excellent belt clip. It's one of the few clips on the market that are just as good as the more secure loop-type attachments. The leather is also fairly thin and the holster is quite low profile.
I carry a Glock 26 in this one. I also have several for my various carry revolvers. This one is designed for behind the hip carry, but works well in appendix for me as long as the pistol's barrel isn't too long. For me, the Glock 19 is a little big for appendix carry in this rig. Anything smaller than that feels quite comfortable in that position for me.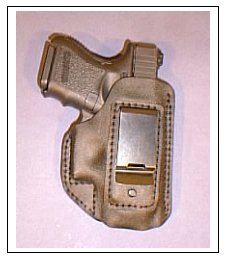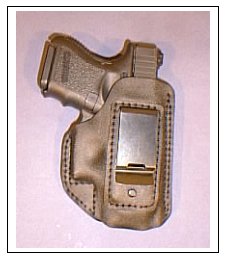 If you value very thin, low profile holsters, the Fist K-1 is the holster for you. The kydex it's made from is so thin that it is actually sewn together with thread. This holster is super thin and low riding. It conceals extremely well. I use it when I carry my Glock 42. It's light and thin enough to conceal in gym shorts under a workout shirt.
This is a holster with no cant. It works behind the hip with most guns and appendix in guns with shorter barrels. It has a very low ride for concealment. Some of you might not be able to get a full hand grip on the weapon during the draw, depending on the type of pants and belt you carry.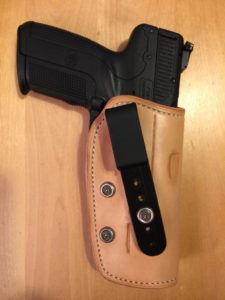 If you don't want a kydex holster, check out the Coverup. This was the very first holster I used when I switched to appendix carry. The adjustable belt clip allows you to fix the cant to make appendix carry comfortable with nearly any barrel length. It works equally well behind the hip.
I had some problems with the standard belt clip when I first got the holster. It would occasionally detach from the belt during the draw. I switched to the company's J-hook belt clip and the problems went away. While comfortable, this holster is a little less concealable than some others. The leather is quite thick and the single belt attachment is directly over the bulk of the weapon. That makes for a slightly larger "bulge." If you are a super skinny person or wear really tight clothes, this one wouldn't be the best choice. For anyone else, it's a great pick.
For what it's worth, the Tucker Gunleather reverse cant magazine holder is my current favorite way to carry a spare mag. I really like this company's workmanship.
That's it. My list of favorite IWB holsters. Any of these will be a great choice. If you are carrying in a sub-optimal holster, fix that. A good holster will be many times more comfortable and concealable than a cheaper option. Pick one from this list or keep experimenting until you find something you like. I promise that your life will become instantly better once you find the right holster for your gun and body type.
FTC Disclosure- I have no financial interest in any of the companies mentioned and I am not receiving any compensation for this article.
If you would like to read more articles like this one, please sign up for my email updates.