Written by: Greg Ellifritz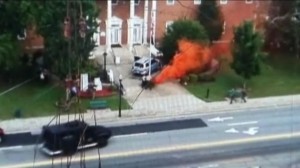 On June 6, 2014, a man drove his vehicle up to the front of a Georgia Courthouse.  As he drove, he dropped home made spike strips to deflate tires of any responding police officers and then dropped tear gas and smoke grenades to further delay police response.
He was engaged by a deputy who was assigned to guard the courthouse.  The deputy fired on the attacker.  The attacker fired back through the windshield, striking the deputy in the leg.  He then tried to run the deputy over.
The courthouse attacker was killed after a quick response (and three minute gunfight) from other deputies assigned to the jail across the street and a SWAT team that was training nearby.  For additional information, check out this CNN article.
Watch surveillance video of the incident HERE
The suspect drives up to the courthouse at around the 18:00 minute mark. He tosses the first gas/smoke grenades at 19:48. The first officer appears across the street at 21:10 and by 21:40, you can see police bullets impacting the suspect's vehicle. By 22:40, more than a dozen officers are on scene and are dragging the suspect's lifeless body away from the vehicle.
Thanks to an alert deputy and a quick SWAT response, the attacker's plans were thwarted.  He had been carrying numerous zip tie style restraints and was planning on taking over the courthouse and potentially killing all of the government employees there.
I truly believe that this was an active killer situation, despite the fact that only the attacker was killed.  The attacker most certainly intended to kill many people inside the building.
I don't comment on all thwarted active killer events, but this one was rather unique.  The attacker was wearing body armor and a gas mask.  He used tire deflation devices and grenades.  These tactics make response from either police or armed citizens a little more complicated.
For my police officer readers, would you be capable of handling this type of attack?  The pepper spray and tear gas create the most difficulty here.  Do you carry a gas mask with you on patrol?  If the incident lasted any longer, donning a gas mask would have been necessary to remain engaged in the fight given the large amount of gas released from multiple grenades.  Barring the gas mask, do you know how to prevent being disabled by tear gas and how to stay in the fight if you get exposed?  Those are critical skills.
The man was wearing body armor.  Do you carry a rifle capable of defeating soft armor on patrol?  If not, are you capable of taking a long range head shot to end the fight?  Can you take that same long range pistol shot with your eyes full of pepper spray?
What about the road spikes?  To be honest, I don't know of any specialized tactics you can use to defeat them.  I've never considered watching for them while responding to crimes in progress, but I will from now on.  Maybe run-flat tires in police cruisers are a worthwhile investment.
For my armed citizen friends, how would you respond to this situation?  Would you engage the gunman or retreat?  This is a pretty easy situation to read.  When a dude drives his SUV up to the front of a courthouse and starts shooting at a uniformed deputy, you can be reasonably certain who needs to be shot.
The problem is the police response.  In any active killer situation, you must assume that the police will arrive quickly and you take the chance of being misidentified as the shooter when they see you standing around a pile of bodies with a gun in your hand…especially when the cops' eyes are burning from all the pepper spray.  How do you engage without getting shot yourself?
An entire SWAT team as well as deputies (with rifles) from the jail was on scene in less than one minute.  If you did choose to engage while the attacker was shooting at the deputy, would you continue to engage once the SWAT team arrived?  I don't think I would.  The chance of being mistakenly shot by the responding officers is simply too great.  Some cop with a rifle might shoot you from across the street thinking you were the killer firing on the deputy.
It's a tough call to make, but you should certainly be thinking about what you might do.  Being stuck in the crossfire between a SWAT team and an active killer with a gun in your hand won't improve your life expectancy.
If you would like to read more articles like this, please sign up for my email updates.