Written by: Greg Ellifritz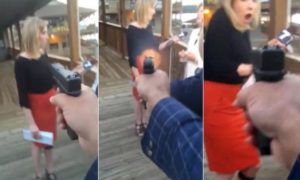 I'm not going to write an in-depth article on the recent Virginia news crew killings. While the attack loosely qualifies as an "active killer" event, the victims weren't randomly chosen. This was the work of a man who had a serious mental illness. He was trying to make a statement, but wasn't going for the massive body count that we see in most active killer crimes.
There are however, a couple of interesting things to note about the attack. This article does a good job summing them up. Here are a few highlights:
– Extensive advance planning (the car was rented one month in advance and he wrote a 23- page manifesto). Like every other active killer in recent history, this wasn't a person who "just snapped."
– Effective escape planning. He drove his personal car to the scene and then quickly ditched it in an airport parking lot where he had pre-positioned the rental car. He also had three sets of stolen license plates to enable him to switch car "identities."
– There were wigs and women's clothes in the car. The same items were found in the hotel room of the most recent movie theater shooter. Male active shooters are planning to disguise themselves as women to facilitate their escape. That's a trend cops need to be aware of….and one that makes quickly capturing these murderers even more difficult.
– He had six extra magazines for his pistol and was wearing body armor when he committed the crime. He was prepared for a shootout (or to kill more victims) and had enough armor and ammo to ensure he wouldn't be stopped by the random cop or CCW permit holder who might stumble across his path.
– He recorded the killing on a Go-Pro camera and then broadcast the video on Facebook and Twitter. I believe he is the first mass killer to do such a thing. It's not surprising, however. These killers crave notoriety and the immediacy of social media ensures they quickly get it.
It also presents a problem for cops…most police departments don't actively monitor social media sites. Some drug cops have fake Facebook profiles to get intel on low-level targets, but most police departments are too outdated to consider social media to be a valuable form of intelligence. That has to change. If a killer is broadcasting his crimes essentially in "real time", we have to have officers with the ability to monitor and track that. We also have to be much more responsive when a citizen calls us to report some type of threat or crime that they saw on a social media site. We are very much behind the curve with regards to the latest communication technology that is being used daily by the citizens we serve.
I'm not talking about some massive NSA-like surveillance system. I'm talking about basic familiarity and access. Police administrators rarely have Facebook profiles. Their Twitter feeds are managed by interns, IT folks, or the department "computer guy." Most police chiefs have no idea Snap Chat even exists. Police departments regularly put filters on the department computers that prohibit officers from accessing social media sites while on duty. All of this has to change quickly if we want to be able to most effectively stop the current generation of active killers.
We are in for a challenging ride.