Knowledge to make your life better. If you have some free time, check out some of these links this weekend.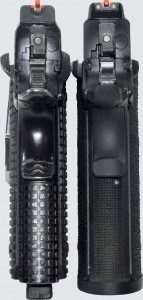 "Shooting out of the notch" is an important skill to learn and practice if you want to shoot at very long range with your pistol. Personally, I use a traditional sight picture (and hold high) shooting out to 100 yards. Beyond that, I find better results when I shoot with the front sight outside the notch.
If you are more into long range shooting with rifles instead of pistols, you'll want to read 8 Steps To Better Long-Range Accuracy.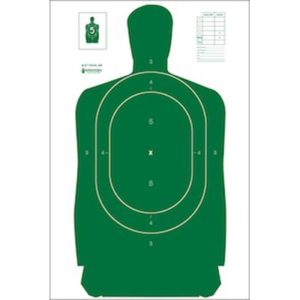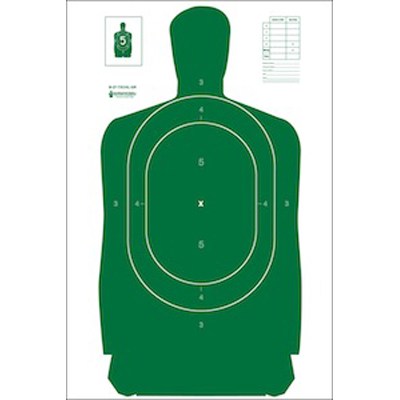 This is a stellar resource for those of you who want an honest look at how good your pistol shooting skills are. I would suggest that you start with the first drill and progress one by one until you find one that you can't pass. Work on the individual skills needed to pass that test until you can do it cleanly and then move on to the next. This can serve as a decent stand alone training program program if you break down and practice the individual stages of these qualifications that you can't pass.
Here's one more shooting drill designed expressly for my revolver-carrying readers.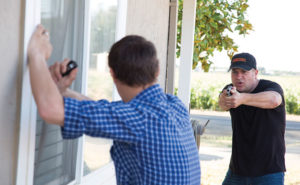 I'm often critical of my police students, but the one area where they regularly outperform my civilian students is in the arena of verbal commands. Cops have lots of experience talking to (and yelling at) strangers. Most of my armed citizen students lack that experience. I would suggest taking some force on force training classes to help remedy that if you find it a personal weakness.

"Only 85% of the people who had a gun in their bag for "self protection" had it loaded, and 28% had a round chambered. In other words, the 72% of the people who showed up to an airport with a gun thoughtlessly left in a bag they wanted to take on a plane had that gun in a condition where it was pretty much useless as for self-defense.
That says a LOT about the demographics of people who carry around a gun in a bag to make them "feel safe"."
A telling statistic, even if I might quibble a bit on the math. There were four .38 revolvers seized that were classified as "loaded" but not "chambered." I don't know how that can happen without skipping chambers in the cylinder and I don't know many people who do that anymore. Regardless of the numbers, there are still a lot of people carrying chamber empty. Frightening.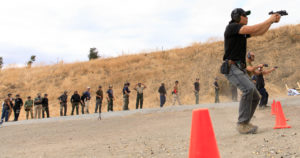 A perspective that is slowly gaining traction in the training community. While lightning fast splits are helpful in the context of the shooting sports, they may be less useful in the context of self defense. If you are shooting faster than you can see and process information, you may be going too fast. I know quite a few very elite police and military units that rarely shoot faster than half second splits in their training. At that pace you can keep track of both your sights and your target, a useful thing in the middle of a gunfight.
I don't know how representative this sample is of the "average black gun owner" but I found the responses interesting. Their stated worries and concerns seem very different than those expressed from my white gun owning friends.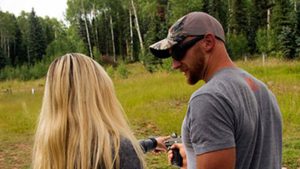 Good advice here. I haven't seen many folks succeed when trying to coach a significant other.
This is a topic that often gets limited attention from SWAT folks. Does your team have set standards for shotgun breaching?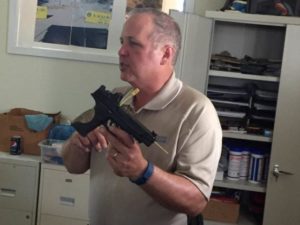 Excellent detailed coverage of Karl Rehn's study about the relative effectiveness of red dot sights vs. irons vs. lasers on handguns. Definitely worth a read if you are considering a red dot for your pistol.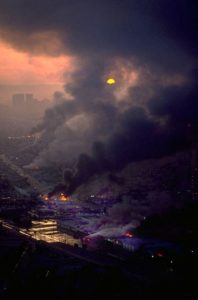 A Hollywood screen writer describes his experiences getting his wife and young children to safety when the building they were in was attacked by rioters in the L.A. riots in 1992. He talks about how helpless he felt knowing that he may have to defend his wife and kids against armed gang members with nothing but his Swiss army knife.
From the article:
"If the Los Angeles riots taught us anything, it's that you're a fool if you count on the authorities to protect you in times of civil chaos — in fact, at any time. In the end, only I can protect my family.
I'm never, ever going to allow myself to be outgunned by the bad guys. All the gun laws that are on the books—and there are thousands of them—just make it that much easier for the barbarians to amass weapons and for law-abiding people like you and me to be at their mercy."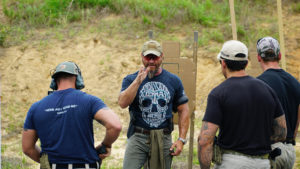 Pat Mac's advice for dealing with depression.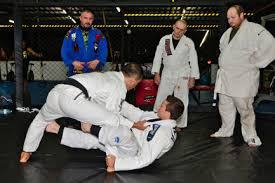 Cecil Burch talks about how to choose a good Brazilian Jiu-Jitsu school.
John compares the new Surefire EDCL2-T light to my favorite carry light (the Fenix PD 35 Tac). The Surefire is definitely brighter. It looks like Surefire is doing some good work!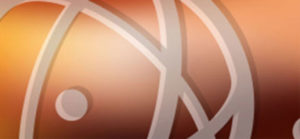 An article explaining how a spree killer thinks…and why he's not "crazy" in the clinical sense of the word. From the article:
"They're almost all male, there is one exception. They're young. They tend to be in their 20s. They are typically social isolates. They very rarely have close friends or confidants. They almost never have an intimate relationship, although they sometimes have had brief relationships, which have usually failed.
Interestingly, they're not like many offenders, they don't tend to have problems with alcohol and drugs. They're certainly not impulsive, quite the reverse. These are rather rigid, obsessional individuals who plan everything extremely carefully. And most of these massacres have been planned for days, weeks, sometimes months ahead.
The other thing about them is that they are angry and resentful at the world, they blame the world for not having recognised their qualities, for having mistreated them and misused them. Resentment is central to their personalities.
They spend their time ruminating on all those past slights and offences. And they begin to develop a hatred for the whole world.
Perhaps most important of all, these people are on a project to suicide. They go out there to die, and they go out to die literally in what they see as a blaze of glory. They are seeking a sort of personal vindication through fame or, more precisely, infamy."
Can you identify anyone in your life with those characteristics? It may be a worthwhile thought exercise to ponder.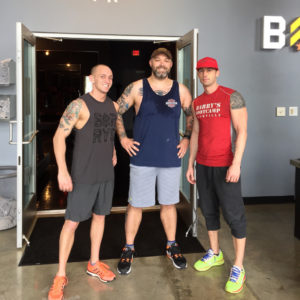 Yes, you need empty hand skills. You also need strength and endurance if you want to win the fight as well. It's not about the guns. Become a fearsome warrior by mastering ALL the skills you need to win your fights.
"So stop worrying about whether you chose the right striker-fired pistol for your EDC, or if the magazine pouch you're using gives you the fastest emergency reload. Hit the track, or the stadium stairs, carry a tourniquet, and breathe in MORE air. All of your trials and tribulations through life, will be exponentially easier, the higher your exercise capacity is.
It's 2018. Be the superhero kids read about in comic books."
Read the narratives and the linked news stories. Place yourself in the role of the victim. Ask yourself; "Is there something I could have done to prevent this attack?"
Then ask: "If I could not avoid this attack, what would I do to ensure that I prevail?"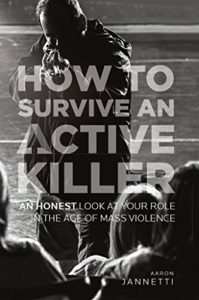 What I'm reading…
I'm only about 50 pages in to it, but I am enjoying the book so far. I'm looking forward to getting into the meatier parts next week.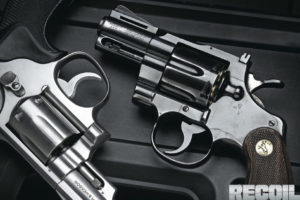 I wish I could say that I'm shocked to see that the Taurus and Charter Arms snubbies had the worst accuracy and the most issues.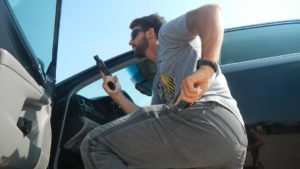 A variety of perspectives on everyday carry items.
Watch how fast all this happens. I agree with John. Can't you see the need to develop a robust physical fighting skill set in addition to your pistol shooting skills?
Kathy Jackson from Cornered Cat writes a great article about how to become a firearms instructor. She's giving good advice. I see too many "professional" instructors stopping somewhere between steps one and three. Those are a start, but it's not enough. Challenge yourself. Do more. Learn more. Your life and the lives of your future students will be improved.
The USA gets a bad rap internationally for our allegedly poor weapons restriction laws. Interestingly enough, less than 2% of the weapons seized from ISIS in the last three years came from US sources.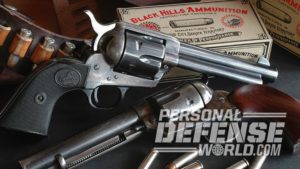 You history buffs will enjoy this article.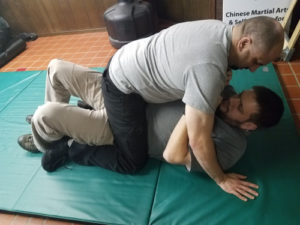 I generally agree with the author here. There are ground positions where it is easier to draw an ankle gun, but in general, it's pretty tough to pull off against a skilled opponent.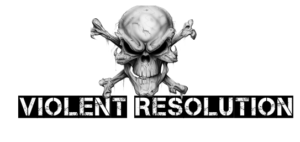 Hock has some excellent advice about using the term "violence" in your marketing materials:
"In every literary aspect the word violence has a negative connotation, doesn't it? We the people don't like violence. We the people want to stop violence. Violence is a problem. But then next, you/we want to teach physical violence! But from only a self defense perspective? Yes, but folks, don't call it "violence- anything, because semantically, overtly, covertly, it's a big problem. How's that going to flesh out for you? I add the word "flesh" for an obvious reason. How in the world are you going to beat, bruise, stab, cut or shoot flesh in a legally, morally and ethical, acceptable method. It's a tightrope we in this business walk."
Check out Hock's new book "Fightin' Words."
Some of the above links (from Amazon.com) are affiliate links. If you purchase these items, I get a small percentage of the sale at no extra cost to you.