Written by: Greg Ellifritz
My friend Marcus Wynne has recently decided to carry a brace of revolvers for self protection instead of a single large autopistol.  In some recent emails he explained the drill he created for optimal practice of the skills needed to successfully defend yourself with a snub-nosed revolver.  Here are Marcus' thoughts:
"One of the things that builds my confidence at the preconscious level with a weapons system is to run it to extremes and while deliberately inducing elements likely to fail, etc.  anybody can do well practicing the draw stroke standing straight on from an OWB with no cover garment — I like to induce it by working at weird angles off hand garments that get caught up etc.
One of the concerns I've been working through with revolvers has to do with appropriate cadence in a combative context and the 5-shot capacity.  The presuppositions are that bad people need to be shot more times more often than not, and that may require a shift in cadence and aiming point (like a Mozambique) and also dealing with multiple opponents with a 5-shooter.
Anyway, this is a modification of a cadence drill I do with my semi-auto pistol — I do this normally on one target and where I can, on three targets separated by a yard or so".
GOAL:  TO IMPROVE CADENCE, SHIFT OF AIMING POINT AND RELOADING
EQUIPMENT REQUIRED;  FIVE SHOT REVOLVER WITH FULL WHEEL AND TWO FULLY LOADED SPEEDLOADERS (15 ROUNDS)
TARGET:  PIE PLATE FOR HIGH CHEST AND 3X5 CARD PLACED HORIZONTALLY FOR OCULAR CAVITY.
DISTANCE:  INITIALLY FIVE YARDS, WHEN YOU CAN CLEAN CONSISTENTLY PUSH BACK TO SEVEN YARDS.
PAR TIMES:  TBD
1) START AT FIVE YARDS.  REVOLVER HOLSTERED IN CONCEALMENT WITH TWO SPEEDLOADERS AVAILABLE.
2) AT THE BEEP, DRAW AND FIRE ONE SHOT INTO THE OCULAR CAVITY,
3) IMMEDIATELY SHIFT TO THE CHEST PLATE AND FIRE TWO SHOTS,
4) THEN RETURN TO THE HEAD AND FIRE (THREE) SHOTS — YOU ONLY HAVE TWO LEFT, WHEN YOU CLICK EMPTY DO A SPEED RELOAD AND THEN RETURN TO FIRE ONE SHOT AT THE HEAD,
5) SHIFT TO THE CHEST AND FIRE FOUR ROUNDS (REVOLVER EMPTY)
6) DO A SPEED RELOAD AND COMPLETE WITH FIVE SHOTS INTO THE HEAD.
"That's 15 rounds, two reloads, the standard at 5-7 yards is that ALL shots remain within the ocular cavity card AND the chest card.  Once you've done that CONSISTENTLY for five times in a row (thanks Claude) then start running it for time."
I ran the drill last week with three different revolvers.  For each gun, I shot the drill twice using speedloaders and twice using speed strips for the reloads.  I shot as fast as I could while doing my best to get good hits.  With that said, some of my strings were a little fast and I threw a few rounds here and there.
I started the drill with my police backup gun (a Smith and Wesson K-frame Model 12 snub) loaded with five rounds instead of its 6-round capacity…
String 1 (speedloader)- 29.77 seconds
String 2 (speedloader)- 24.68 seconds
String 3 (speed strip)- 37.19 seconds
String 4 (speed strip)- 35.88 seconds4
Below is my target.  More than a few of the headshots were out of the box.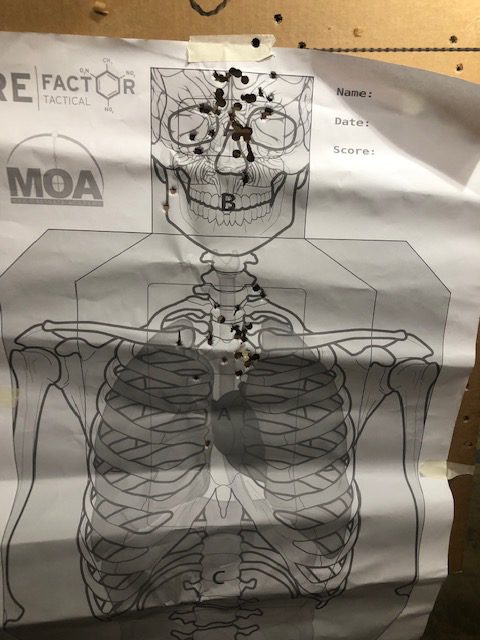 I then shot the drill with my airlite scandium Smith and Wesson model 342 with a big dot sight.
String 1 (speedloader)- 29.83 seconds
String 2 (speedloader)- 29.36 seconds
String 3 (speed strip)- 41.88 seconds
String 4 (speed strip)- 38.82 seconds
I shot the drill on the same target I had previously used for the model 12.  You will see a significant amount of increased vertical stringing.  That's the result of both the big dot sight and the fact that the scandium snub has a significantly more recoil than the model 12.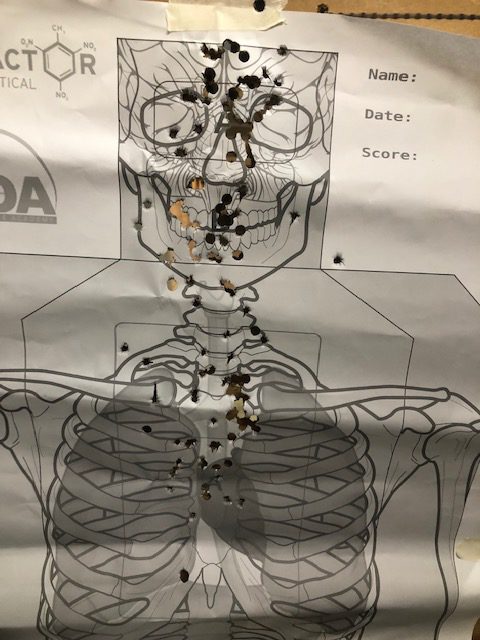 Finally, I shot the drill with my Smith and Wesson 351C in .22 magnum using SpeedBeez speedloaders.  I ran out of ammo for that gun, so I only shot three strings.
String 1 (speedloader)- 40.39 seconds
String 2 (speedloader)- 42.17 seconds
String 3 (speed strip)- 46.42 seconds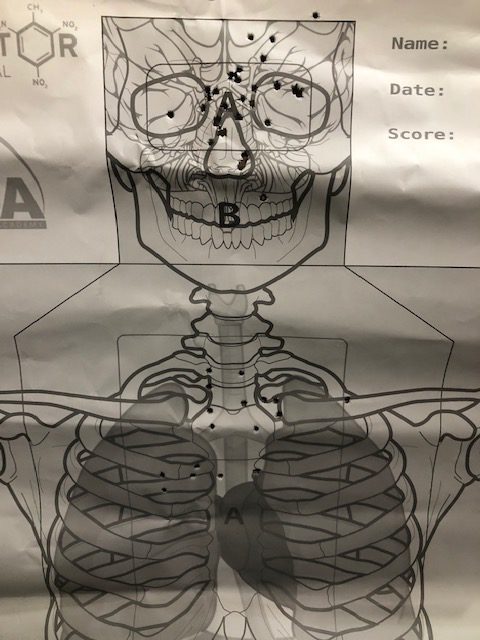 I was a little more accurate with the 351C, but was significantly slower.  The .22 magnum brass cases tend to stick in the scandium cylinder, making reloading really slow.  The speedloader is also slower to operate as you must line up seven rounds instead of only five.
Marcus has some further thoughts about which attributes the drill trains and why he constructed it the way he did.  Here's Marcus again:
"As I said, I used it as an exercise in accelerated learning/integrated curriculum design.  The goal in those training designs is to maximize the amount of learning in the shortest period of time and to minimize stress in the end use environment. 
My presuppositions in design is that the revolver will be used in combat, and the combative principles Ed Lovette (author of The Snubby Revolver  new and cheaper edition will be published soon) suggested are:  
– precise single shots
– bursts of 2-3
-discrimination (as in past non-shoots and cross body)
– reloads
– shifting point of aim to maximize incapacitation.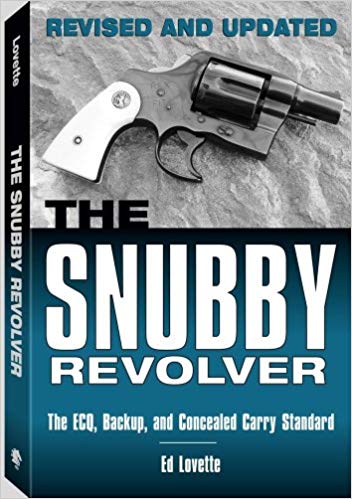 The concept of maxing out good hits runs right up against the limited capacity of the 5-shot, so you have to strike a fine balance in designing appropriate use to be installed via careful design.
So 15 shots, which is the recommended carriage for a single revolver with two reloads.  The drill covers:
-Presentation from concealment to single head shot. (Presentation, precise placement)
-Two to chest (2 shot burst to large targetand shifting point of aim)
-Three to head (2 shot burst to head — small target, reload under pressure, return with one shot precise to small head shot)
-Four to body (burst fire)
-Reload under pressure
-Five to head (precision AND burst fire)
Other attributes are flow and cadence.
Other things to add to expand the learning (creates a larger neural network in which the individual exercise above are embedded in a more comprehensive fashion throughout the neurology).
-Side step with each sequence of shots
-Starting with dominant hand and switching to non-dominant hand with each sequence of shots
-Doing entire drill dominant hand only (except for reloads, to simulate needing the other hand to move someone or control them or to operate doors/wheels etc, though adding single hand reloads would be good)
-Then doing entire drill non-dominant hand
-Doing single hand drills while side stepping
-Doing single hand drills while holding a package like a football or beach ball, and side stepping
-Doing entire drill while moving in a box sequence and never stopping foot movement."
One of the reasons Marcus sent me this drill was to help him establish some par times.  It is obviously dependent on the gun you are using, but for the average small .38 snub, I would suggest a par time for most shooters (with speedloaders) to be somewhere around the 35 second time frame.  I shot it faster, but I also missed some shots.  I think I could clean it if I took a couple more seconds on each string of fire..
While I consider myself a good revolver shooter, I am far from a professional.  I think a really good shooter could probably clean this one in 25 seconds.  I really like the drill and plan to work my times down to that 25 second par time as a goal for this year's revolver training.
Give this one a try.  It will also work with smaller autopistols loaded with five rounds per magazine.  Because the reloads are faster with an auto pistol, I would try to get it in under 30 seconds for the average shooter and under 20 seconds for a pro.
If you value the content provided by Marcus Wynne, help support his work by buying some of his books.