*This is a guest post from Travis Pike. To learn more about him, check out the "about the author" blurb at the end of the article. Travis is a big revolver fan and thought that my audience might appreciate this piece. I think you will enjoy it.
-Greg
When talking about revolvers as a carry pistol, most people think first of the "Big 3" calibers: .38 Special, .357 Magnum, or .44 Magnum. There are other options of course, but one that isn't as frequently considered is chambered in 9mm: I love a good 9 x 19mm revolver. It lets me run cheap ammo without having to find, buy, and store another caliber to enjoy my wheelgun(s).
I've written about the pros and cons of 9mm revolvers on The Mag Life before, but today we are going to look at what I think are the best 9mm revolvers on the market. Some are designed for competition, some for duty, and most are for concealed carry, but all can be "fed" relatively easily with brands like Speer Lawman, Federal Syntech or the like, i.e. the same ammo you most likely take to the range in your semi-auto.
Note: None of the following revolvers are particularly designed for chastising surly bartenders (see below), but they'd probably do in a pinch.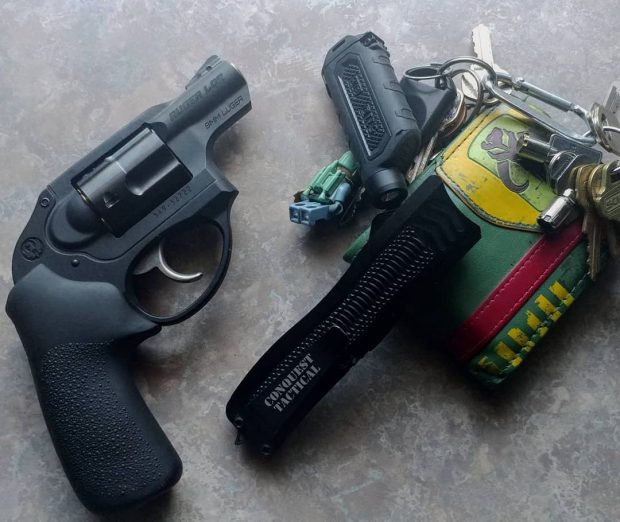 A non-Instagram-enhanced actual pocket dump: featuring the 9mm Ruger LCR revolver.
Ruger LCR
The Ruger LCR is an interesting revolver from the ground up. One fascinating aspect is the use of polymer to lighten the frame without increasing the price drastically. It's my favorite snub nose revolver, and it comes in 9mm.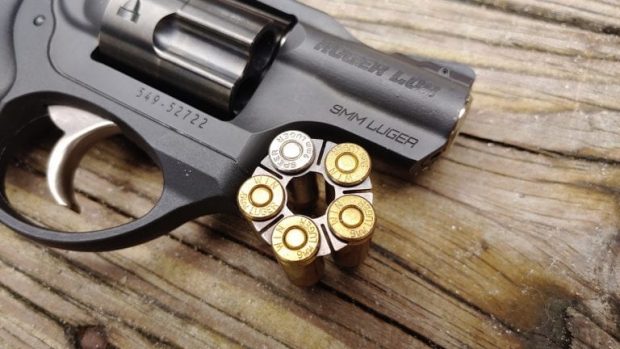 The Ruger LCR 9mm revolver.
The little concealed carry-friendly revolver packs five rounds of 9mm in Ruger's super cheap moon clips. You can shoot the gun without moon clips, but ejection is tough. The Ruger LCR provides the best stock double-action trigger on the market. It's super smooth, light, and downright pleasant.
The downsides are mostly that it's a small revolver, and with +P loads, you feel some slap. Sadly the 9mm variant is nowhere near as available or as cheap as the 38 Special models. Normally the Ruger LCR is a budget-friendly gun, but the 9mm variant adds a premium to it.
Ruger SP101
Yep, another Ruger. In fact, I could probably make a list of just 9mm revolvers Ruger has made. They seem to love the idea. The Ruger SP101 is my second favorite 9mm revolver and combines a 2.5-inch barrel, a DA/SA hammer, and a 25-ounce all-metal frame.
It's hefty but low recoiling and very easy to shoot. It's downright pleasant…with most loads. You get into some hotter 9mm loads, and you might get a little brush of concussion and muzzle rise.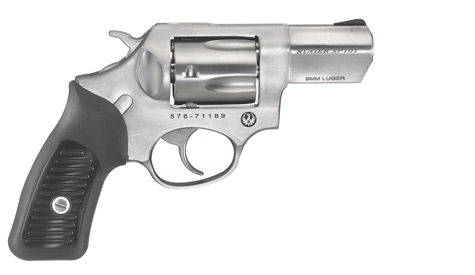 The SP101 is a sweet, soft shooting 9mm.
The Ruger SP101 does offer than nice DA/SA option for those who want to choose that light and sweet single-action shot.
The Ruger SP101 still only packs five rounds and has that integral trench sight I've never been of. I guess I'm not a real revolver guy. If you want something light, this gun isn't for you, but it's plenty compact.
S&W Model 986
S&W jumped into the revolver game with the 986 series. The 986 only comes in a Performance Center model with a 2.5-inch or 5-inch barrel. Most 9mm revolvers simply use a standard 38 Special length cylinder, but S&W uses a true-to-size cylinder with an extended forcing cone that ensures you get the most accuracy possible from a 9mm revolver.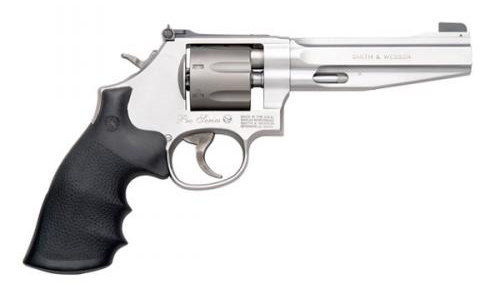 This is the big boy.
The 2.5-inch gun sports a stainless finish, wood grips, and an unfluted cylinder, and a flat barrel. The larger model sports a stainless finish, huge rubber grips, a standard cylinder, and a flat barrel. The Performance Center action includes a tuned action, a precision crown, and bossed mainspring.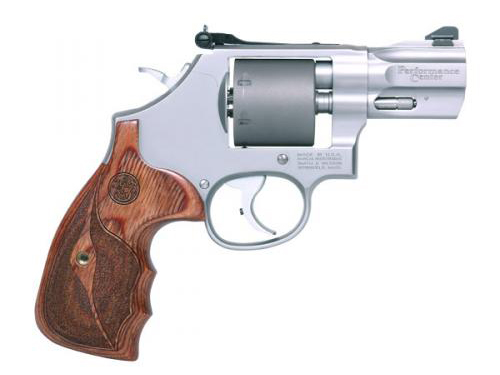 Here is the little feller.
It's a pricey gun and can be tough to find. They are certainly focused more on the fancy revolver crowd than the normal end-user.
Nighthawk-Korth Sky Marshal
The title Nighthawk-Korth should tell you something about the quality of this gun. Nighthawk is known for its awesome 1911s, and Korth is known for its crazy over-engineered firearms and astronomical prices. The Sky Marshal combines these two awesome companies to produce one weird 9mm revolver. It sports a short 2-inch barrel, a DA/SA hammer, and a six-shot cylinder.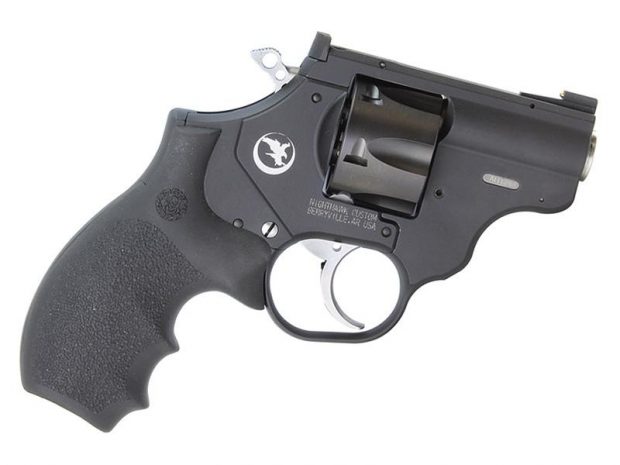 It costs a bundle, and is ugly, but the Nighthawk-Korth Sky Marshall is still a damn fine revolver.
The Sky Marshal does not require moon clips. Instead, it has an integral ejection system with extractor tabs for each cylinder. You get six shots of 9mm in a true to length cylinder for enhanced accuracy and velocity.
Heck, they even mounted a side-mounted Picatinny rail for tossing on a light.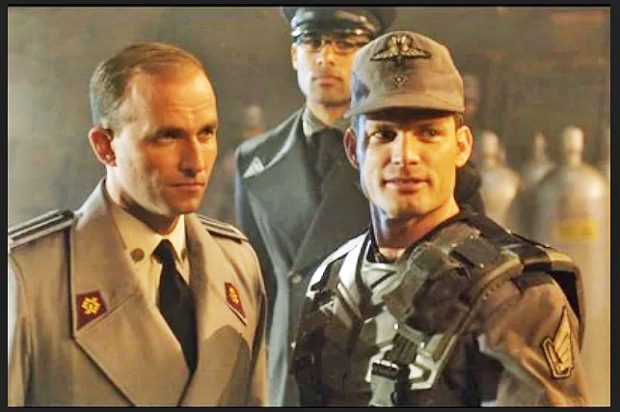 Note: we're not talking about the Sky Marshal from Alamo Bay, we're talking about the one that started in Ratzeburg, Germany.
The Sky Marshal is cheap for a Korth but stupid expensive for a revolver in general. It's also tough to find, but if you got the cash, you'd find one priced well above MSRP.
Rhino 60DS
The Rhino from Chiappa is a cyberpunk fantasy of a gun that uses a unique design. The barrel is aligned with the bottom cylinder instead of the top. The effect of this is directing the recoil rearward and reduces upward muzzle rise. It's insanely easy to shoot, and this is easily the softest shooting 9mm revolver on the list.
The 60DS model features a six-inch barrel that maximizes your sight radius for precision shooting. On top of that, the Rhino sports a top and bottom rail.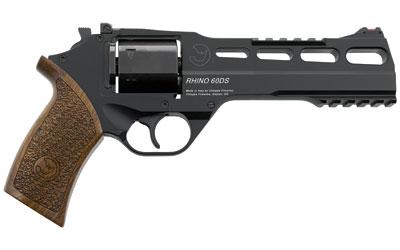 It's so cyberpunk it hurts.
It's easy to outfit the gun with a miniature red dot sight and a light to bring into the 21st century. Combine the long barrel, the in-line design, and the 9mm caliber, and you get a very soft shooting revolver.
The downsides are the high price of the Rhino 60Ds, and the fact it can be tough to catch the moon clips in stock. They seem to be constantly sold out, so make sure you take care of the moon clips you get with the gun.
Taurus 692
The Taurus 692 is a very unique 9mm revolver. Mostly because it's not just a 9mm revolver. When you purchase a Taurus 692, you get a 9mm cylinder and a 357 Magnum cylinder. You can effectively shoot 9mm, 38 Special, and 357 Magnum. It becomes quite versatile when you can choose between three different calibers for a single gun.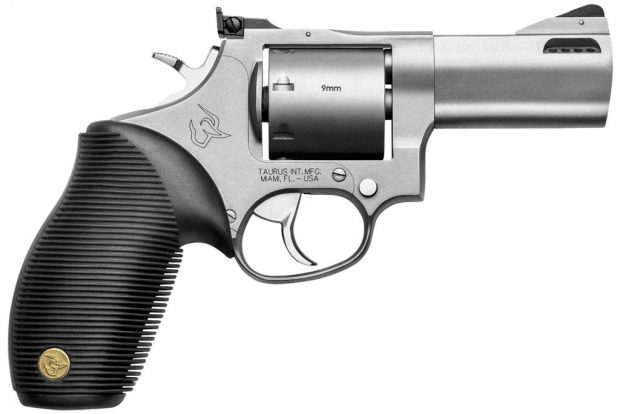 9mm, 38 Special, and 357 Magnum are all options with the Taurus 692.
On top of that, this isn't a six-gun. The cylinders hold seven rounds total, with 7-round moon clips available. Having one extra round at the ready obviously isn't a bad thing. Taurus also ports the barrel to make taming that 357 Magnum muzzle rise a little comfier. You can choose between a 2.5-inch model, a 3-inch model, and a 6.5-inch model.
Personally, I think the 3-inch barreled model seems absolutely perfect for general purpose use.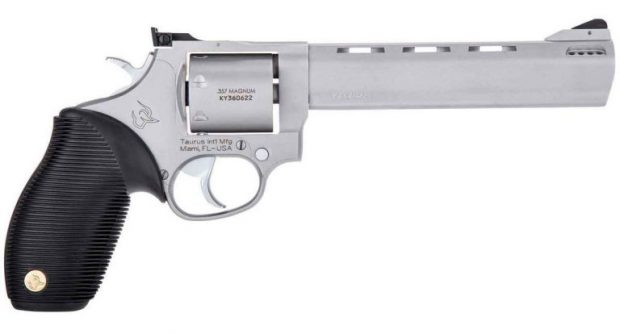 Having multiple size options is never a bad thing. (That's what she said.)
Taurus outfits the gun with real sights, including an adjustable rear sight which is a nice touch. I also can't lie when I say I love the smooth 9mm cylinder. There is something about that unmarked look that's tough to beat. It doesn't offer an impressive trigger, and the grip is a little small for me, but it's an affordable multi-caliber revolver that's tough to beat.
Boom x6 or 5 or 7
A good 9mm revolver goes a long way. Sure it's not 357 Magnum, but the 9mm round is plenty potent and does a fantastic job for defensive use. Plus, it's a helluva lot cheaper than 357 Magnum ammunition.
9mm revolvers are becoming more and more popular since 9mm has become the dominant handgun round on the market. While 9mm isn't perfect in a revolver, it certainly opens up your options.
What say you? Is a 9mm revolver right for you? If so, which of these models (if any) appeals to you? Is there one we left out?
About the Author: Travis Pike is a former Marine Machine Gunner and lifelong firearms enthusiast turned regular guy. Now that he no longer works the 240B like Charlie Parker did his sax across the "Graveyard of Empires" he likes to write, shoot, and find ways to combine both activities. A self-proclaimed tactical hipster with an unhealthy flannel shirt addiction, Travis holds an NRA certification as a Basic Pistol Instructor and is the world's okayest firearms teacher. You can connect with him on Insta if you're so inclined, @travis.l.pike.