Knowledge to make your life better. If you have some free time, check out some of these links this weekend.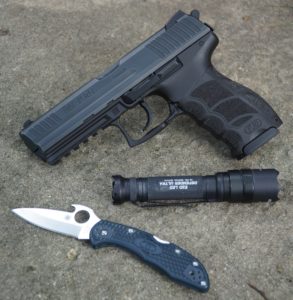 Tamara Keel pens a nice monthly column in SWAT Magazine. It's full of short narratives (Like the NRA's "Armed Citizen") about armed citizens defeating criminals. It's good to read these scenarios and "war game" them, thinking about what you might do in a similar situation.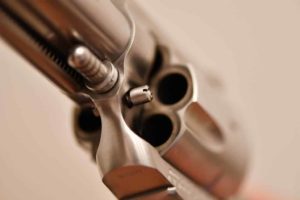 I absolutely agree with the premise of this article. A K-Frame double action (not the single action pictured), especially with a 2″ or 3″ barrel is an ideal "house gun" for someone who lacks the interest to become proficient with a semi automatic pistol. Yes, I understand that revolvers are harder to shoot accurately than semi-automatic pistols. The real question is "how much accuracy is necessary to hit a human torso at five feet?" I would posit that most revolvers can meet that standard.
I have dozens of semi-automatic pistols, but the gun closest to my body when I sleep is a .38 revolver. If I am attacked in my bed, it will be a very close range affair. Revolvers simply work better for contact distance gunfights. I also have a Glock 9mm with a light and a short barrel Benelli shotgun within reach if I have to leave the confines of the bedroom for any reason, but the .38 revolver is my first choice. It's definitely a good choice for someone who wants to protect himself, but doesn't want to spend a lot of time becoming proficient with the firearm.

Mas has some sensible thoughts about whether firearms training should be mandatory. If you like Massad's point of view, you'll enjoy the 40-year archive of his writing in American Handgunner Magazine.
If you remember Skeeter Skelton, you'll like this tribute.
Paul Sharp shares a few quick video links full of great content. Paul's thoughts about the grappling arts are worth reading as well.
"Do bans on large-capacity magazines (LCMs) for semiautomatic firearms have significant potential for reducing the number of deaths and injuries in mass shootings? The most common rationale for an effect of LCM use is that they allow mass killers to fire many rounds without reloading. LCMs are known to have been used in less than one third of 1% of mass shootings. News accounts of 23 shootings in which more than six people were killed or wounded and LCMs were known to have been used, occurring in the United States in 1994–2013, were examined. There was only one incident in which the shooter may have been stopped by bystander intervention when he tried to reload. In all of these 23 incidents, the shooter possessed either multiple guns or multiple magazines, meaning that the shooter, even if denied LCMs, could have continued firing without significant interruption by either switching loaded guns or changing smaller loaded magazines with only a 2- to 4-seconds delay for each magazine change. Finally, the data indicate that mass shooters maintain such slow rates of fire that the time needed to reload would not increase the time between shots and thus the time available for prospective victims to escape."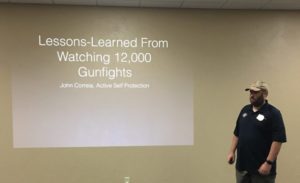 Karl shares details of an important presentation he viewed at the Rangemaster Instructor Conference. Good stuff here.
Some valuable apps you should download before your next international trip. This app looks like a valuable addition as well.
True self protection isn't only about punching and shooting things. Computer scams are exponentially more common than assaults and murders. Take the time to watch this short video, even if you think you are computer savvy. After watching it, forward the information to any elderly or computer-naive friends or family members who can use it.

Chris Fry talks about the relative strengths and weaknesses of the varied possible knife grips.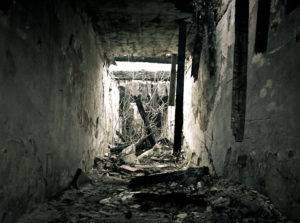 An interesting article on firearm use during the urban warfare of the Balkan war in Bosnia in the early 1990s. English is not the author's primary language, so it isn't cleanly written. It is still worth reading.
The author suggests that to survive such situations, you will need WAY more ammo than you think you will. He describes how firearms were often used for signalling, communication, and scaring people away.
Some take-away thoughts for me….
– If you can't afford a lot more ammo, make sure you have a .22 rifle. For driving people away and signalling, a .22 is as good as anything else. You can also pick up a couple thousand rounds for cheaper than any other cartridge.
– The author talks about dummy guns being placed in windows to drive off potential looters. Have you considered cheap spring airsoft rifles for that purpose? Paint up the orange tip of an airsoft AK-47 and you have a great dummy weapon that looks a lot better than the author's painted sewer pipe!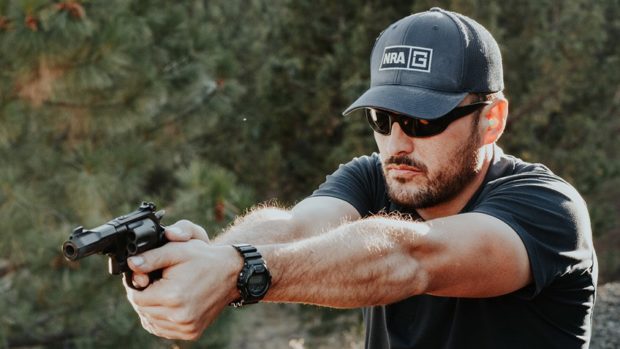 An article about the role head position plays in a shooting stance. I'm going to disagree with it on one point. I think tucking the chin (referred to as the "tactical turtle" in the article) is beneficial in a manner not mentioned. Tucking the chin flexes the trapezius muscles in the upper back. Those muscles have a role in reducing the upward rise of the arms during recoil. I do not move my head into a forward position, but I do tuck my chin down slightly.
There are lots of trainers who are inept. There are also some who are dangerous and do stupid shit. This would qualify as the latter. Choose your gurus wisely.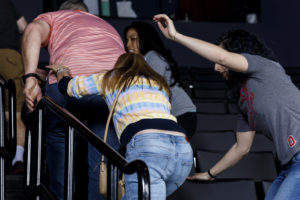 Aaron talks about the limitation of running as a response to an active shooter attack. I agree. Lots of people aren't fit enough to run away. The author sent me a copy of his new book How to Survive an Active Killer. I look forward to start reading it next week.
For another take on the issue, watch Running Away Isn't Always an Option.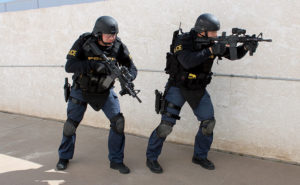 Kyle Lamb talks about a square versus bladed shooting stance. He favors a bladed stance (as described by foot position). I favor a square stance (as described by hip and shoulder position). Many shooters confuse these issues and get it wrong. Having a staggered foot position is beneficial (as the article describes). Having a bladed stance where hips and shoulders are angled away from the threat is not. Stagger your feet if you like, but keep your hips and shoulders square to your threat if you want full protection from your armor and the ability to stay on your feet if you are hit.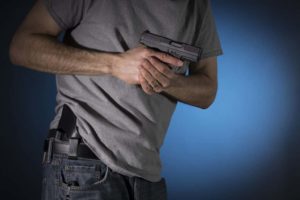 This advice is advocated by just about everyone. I don't agree. I carry my duty gun on my hip with a backup weapon on my ankle. Off duty I carry in the appendix position, with an occasional backup gun in a pocket. I've drawn under stress in real life scenarios from all of these positions. I've never once forgotten where my carry gun was.
One thing that I do to ensure that I have a smooth draw is to actually draw my weapon three to five times every day before leaving my house. No matter where I am carrying, I do a few draws before going out in public. It "grooves" the position of carry and identifies any problems with my concealment garments. Five dry draw reps every day from each weapon position gives you more than 2000 practice draws over the course of a year. That's a lot of total work done in less than a minute a day.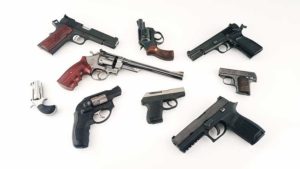 Here's the secret…know that you will eventually buy the wrong gun. Pledge to get rid of it quickly as soon as you realize that fact. Don't double down on a bad decision.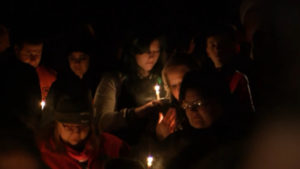 "Heal said he and a couple of the officers had to climb in through a window because the school was on lockdown."
Almost every school implements lockdown as a first strategy during a school shooting. That means locking exterior doors. Cops need a way to breach exterior doors and get inside to stop the killing.
Unfortunately, very few police departments provide breaching tools and training to officers. Officers are forced to improvise at the scene. That is suboptimal.
Police cruisers make excellent breaching implements. Crash the car directly into the glass door. If you are thinking, you may consider backing the car into the door so that you aren't affected by the air bag going off.
If you are a cop, you need to know how to breach doors and windows. A friend recommended the free textbook put out by the New York City Fire Department. The FDNY Forcible Entry Reference Guide looks like a good resource if your agency won't send you to a breaching school. Opens to PDF.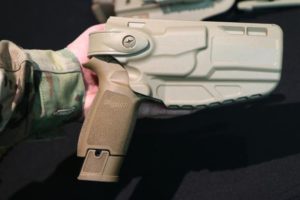 The Army is finally dumping the horrific Serpa holster. You should do the same thing if you are still carrying one.
Some of the above links (from Amazon.com) are affiliate links. If you purchase these items, I get a small percentage of the sale at no extra cost to you.