Here are a few links to articles and videos I found interesting this week. Some are intellectual. Some are informative. Some are just fun. If you have some free time, check them out this weekend.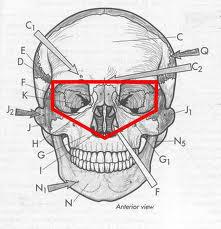 A must-read article about how to structure your training session to prioritize the most likely attacks that you will face.
It's actually pretty rare to find an account of a citizen using a knife to defend himself against an attack. Here's a recent news story about a man who used a knife to defend himself against a multiple attacker robbery attempt. Some things to note:
1) The attackers were unarmed. That doesn't necessarily mean the defensive knife use was unjustified. In my research on defensive knife use, the victim with the knife ends up using it against UNARMED (but physically superior) attackers far more often than he uses it against armed attackers
2) Multiple attackers
3) The victim had to both access the blade (draw and open) and fight from the ground while his attackers were still standing
Now, analyze the knife training you've received in context of this event. Are you only doing "flow drills" against other people who are also armed with a knife? Do you start your training with knife in hand, or do you work on access as well? Do you regularly train against multiple attackers? Do you train to fight with the knife on the ground?
If you aren't doing these things, I would submit that your knife training isn't as realistic as it should be.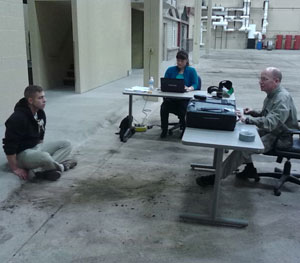 For my cop friends…
This study looks at the relative speed of a criminal attack after placing a criminal suspect into one of three different seated positions.  The study found that there wasn't much of a difference between the three seated body positions.  It's an interesting study, but when I put people into a seated position, it isn't to prevent them from attacking me; it's to make it slower for them to run away.  If I think I'm likely to be attacked, I would be justified in handcuffing the suspects and putting them in the back of my cruiser.  I think that's a better option than sitting them unsecured on the curb.

A very useful rifle training drill from my friends at Adaptive Defensive Concepts.  I also use cadence fire or "tempo shooting" with my handguns as well.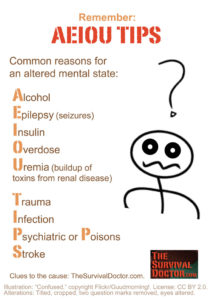 This is a good mnemonic to remember in the event that you have to take care of someone who has an altered mental status.  I once used this one on a long plane flight when a passenger behind me was drifting in and out of consciousness and talking about some crazy stuff.  The plane staff called for a doctor and a podiatrist came up to help.  He wasn't able to figure out what was going on.
I used the mnemonic and asked the flight attendant if she had been drinking on the flight.  She hadn't.  When the patient was somewhat lucid in between bouts of unconsciousness, I asked her if she was diabetic or epileptic.  She wasn't.  Then I got to "overdose."  I asked her if she had taken any pills.  "Yes, I took three Valiums before the flight because I was nervous."   There's our answer.  Monitor patient for respiratory depression and let her sleep it off.  Emergency landing averted.

I wouldn't advise trying this out of safety considerations, but it's good to know it can be done in an emergency.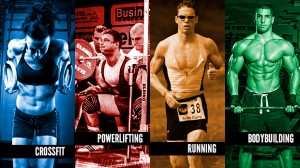 What body parts are most likely to get injured  sorted by workout type along with suggestions for SMR techniques to break up the muscular adhesions you get in each sport.
Amusing caricatures of the different types of people you see at the gun range.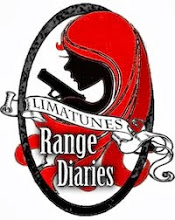 A good article from Melody.  If things go bad, I'll take all the help I can get, male or female!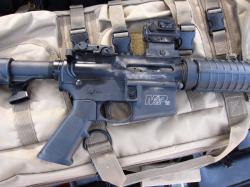 Chuck Haggard does an evaluation of Smith and Wesson's low cost "Sport" model.  The rifle performs surprisingly well.  With Colt rifles available at historically low prices (in the $800 range), I still think you should spend the extra money and get a quality gun that will last a lifetime.  But if you can't spare the extra $250, this one seems like a good choice.  If you are interested in purchasing a low cost AR, you should also read this excellent article about the subject in Recoil Magazine.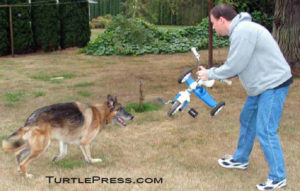 Some advice from Loren Christensen about ways to prevent a dog attack.  Loren is a prolific writer.  His books are worth checking out.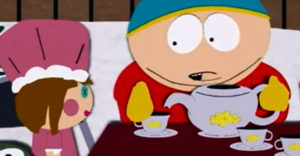 "A pint glass, double old-fashioned glass, and a beer mug all offer a solid hold. With a mug, your hand is basically making a fist, and if you actually clobbered a man with the mug itself, you wouldn't be the first. Same goes for bottled beer. Cans can be crushed on the forehead as a threatening gesture, but only at a hillbilly barbecue or a frat party. What are you going to do with a champagne flute or a martini glass? That's right, not a damn thing. Pint glasses, beer cans and DOFs probably don't make the best weapons, granted, but the hand position communicates strength and control, compared to the delicate pinching required to hold a martini or cocktail glass.
It's a small thing, and it doesn't matter much, but why not make the manlier choice?
These days when I'm out in public, if I order a martini, I order it shaken and neat, or on the rocks. And if I'm sampling a complicated drink with bitters or some imported liqueur that's been made by monks for 300 years, I make sure I don't have to drink it out of a vintage pink champagne coupe.
When I write about things like this, there's always going to be some guy who says, "real men don't think about whether what they do is masculine or not." This is the fetishization of stupidity and the confusion of stupidity with masculinity.
One might as well say that real men don't think about what they do at all. This is strange position, given that men invented philosophy."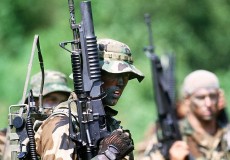 Jeff Gonzales talks about why he uses the muzzle-up ready position.  I generally teach muzzle down, but my folks aren't normally working in teams or sprinting.  We also work in an urban environment where an upwards pointed rifle that ADs or cooks off will likely cause more damage than one pointed at the ground.  pay attention to what you are doing and let your mission dictate your ready position.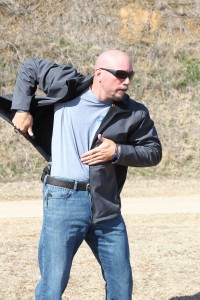 "The fight is coming.   Are you ready?"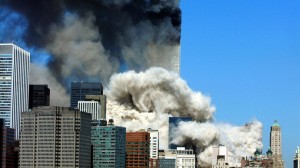 As the result of a civil lawsuit, some additional details of the 9/11 terrorist attack are becoming public.  One of the big discoveries is that some of the terrorists' security testing was observed and reported, yet nothing was done about it.  Terrorists acquire supplies, do surveillance on their targets, and conduct trial runs before their attacks.  It's easiest to catch them in these phases.  Most people think about terrorist interdiction once the attack has begun, but that is exponentially more difficult.  Stay alert for opportunities to catch the terrorists in their preparation phases instead.
Our health care system is mostly unprepared for the Ebola epidemic that is heading our way.  Take a look at the results from a recent poll of nurses from over 250 different hospitals:
80 percent say their hospital has not communicated to them any policy regarding potential admission of patients infected by Ebola
87 percent say their hospital has not provided education on Ebola with the ability for the nurses to interact and ask questions
One-third say their hospital has insufficient supplies of eye protection (face shields or side shields with goggles) and fluid resistant/impermeable gowns
Nearly 40 percent say their hospital does not have plans to equip isolation rooms with plastic covered mattresses and pillows and discard all linens after use, less than 10 percent said they were aware their hospital does have such a plan in place
More than 60 percent say their hospital fails to reduce the number of patients they must care for to accommodate caring for an "isolation" patient
Don't rely on other people, the government, or commercial entities to care for you in an emergency.  Plan to take care of yourself and your family members.
For a look at how to do it right, check out this article: Firestone Did What Governments Have Not: Stopped Ebola In Its Tracks

My buddy Caleb Causey from Lone Star Medics just got his YouTube channel up and running.  Check it out.  The first video is about how to carry medical gear on your person every day.
If you are interested in seeing more articles like this one, please sign up for my email updates.