Written by: Greg Ellifritz
My friend Claude Werner recently wrote an article where he postulated most shooters don't do any real structured practice with their firearms.  They plink or play, but they generally don't perform drills designed with realistic standards in order to improve performance.  In the article, Claude talked about sharing details and photos of his practice routines to give novice shooters an idea about how they might better spend their practice time.
I think that is a wonderful idea.  I plan on sharing the drills I shoot in my weekly practice sessions.  Hopefully, you will get a little value out of my posts and come up with some new drills to make your own practice sessions more effective.
As I plan to do every session this year, I started out shooting the Consistency Target.  Two passes through this one with my Glock 17.   My first run was 22.51 (minus one).  The second run was 24.63 (clean).  The slower time on the second run was the result of a flubbed reload, not my attempts to slow down and shoot better.  It seems that I am making steady, measurable performance gains on this drill.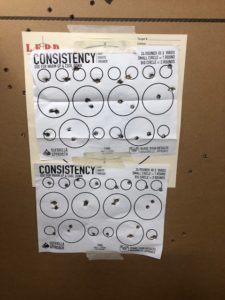 After this warm up, I set up some drills to remediate the poor performance I had on Dave Spaulding's The 5 in 5 Drill. I shot last week.  Some people do this wrong, so please pay attention to my methodology here.
The best way to get better at a shooting drill isn't to endlessly practice the drill over and over again.  The best way to "beat" a drill is to practice the drill's component parts until a true increase in performance is demonstrated.  Only at that point should you shoot the drill again.
I had problems last week with the long range accuracy and speed portions of the drill.  So that's what I worked on this week.
I used targets that were slightly smaller than the ones Dave uses in his drill to enhance my concentration.  Since I did fine at the five yard stage of the drill, I focused today's efforts at the 10 and 15 yard stages.  I shot smaller targets to the same time standards (five shots in five seconds) multiple times at those ranges to work on my accuracy.  The photo below shows the results.  Much better than last week.  I'm going to do the same thing with the 20 and 25 yard stages in this week's practice session.
I finished up with some practice with my police ankle gun (Smith and Wesson Model 12 airweight .38 revolver).  I try to practice with that weapon at least once a month since it is my constant working companion.  I used a bullseye target and fired six-rounds at a time.
I started out at five yards.
6 shots slow fire single action
6 shots two handed from ready, 1 round per second
6 shots right handed only, 1 round per second
6 shots left handed only, 1 round per second.
I then repeated the exact same sequence at seven yards.  That left me with two bullets remaining in the box.  I shot those two slow fire double action at 25 yards.  The target below shows my results.  No complaints with the little .38 snub today.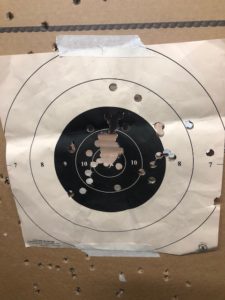 Rounds fired:
102 rounds 9mm Glock 17
50 rounds .38 spl S&W model 12
I also shot 50 rounds through the .380 S&W Shield EZ as I described in yesterday's article.