Written by Greg Ellifritz
Concealed Nation has a regular feature on its website called #DIGTHERIG. It consists of reader submitted photos about their individual chosen concealed carry weapon and holster choices.
A huge variety of guns and holsters are featured. Real people carry each of these gun and holster combinations. Unfortunately, some of the choices are less than optimal. Concealed Nation doesn't provide any commentary about whether the CCW choices are good or bad. I fear that leads a lot of uneducated readers to think they are making good choices with regards to CCW weapons just because they are carrying a gun that is similar to one of the guns featured on the website. That's not a good idea.
While most of the gun/holster combinations featured on the site are completely adequate, some are less than ideal. When I see some of these sub-optimal choices, I will highlight them here, telling my readers why I think that they should be making better choices. I'm going to call my series #DON'TDIGTHERIG.
This installment takes a look at carrying a Sig p938 in an Alien gear hybrid IWB holster.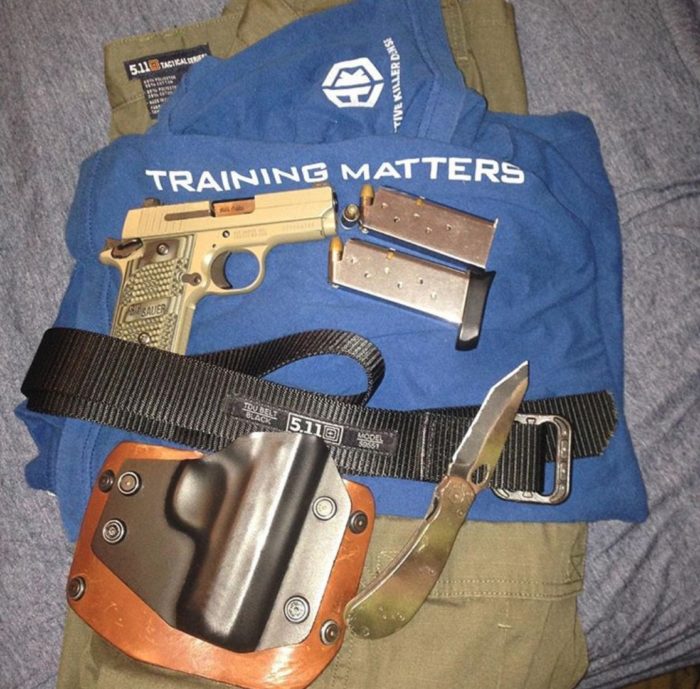 This edition of the series is going to be a bit different. I'm not going to talk about the pistol (I've written about it before) or the holster (my thoughts on hybrid holsters are well known). Instead I want to focus on Ryan's commentary about his gear choices. Read his comments below.
"I carry a Sig P938 Scorpion in an Alien gear OWB (gen 1). I carry this gun because I have a holster for it. Once I find a good OWB for my Canik TP9SF I will switch.
This holster has been with me since I started carrying concealed because I really didn't know any better. Want a full kydex holster for my TP9SF.
This gun has a lot of sentimental value for me, as my family gave it to me for Father's Day 2015. My two boys even donated $20 each to help pay for daddy's gift. I will never get rid of it, but don't feel comfortable depending my life on it."
These words truly baffle me. He admits that the only reason he carries the gun is that he "has a holster for it." He doesn't trust the gun itself. He doesn't like his holster selection. Yet he willingly carries this sub-par gun and holster combination to defend the lives of himself and his family. What is going on here?
Unfortunately, as I scanned other "Dig the Rig" articles, I found that people carrying gear they didn't like just because it was the only thing they had was quite common. Read the commentary on the links below for some examples. All spelling and grammatical errors were present in the original posts.
Brandon and his Glock 19X in a Clinger Holster
"Glock 19x in a Clinger holster. I carry this gun because it is my only handgun and only holster I have at the moment. Though it's not a bad holster."
Byron and his Glock 26 in a Concealment Express Holster
"It's my only holster that I own at the moment."
"Blackhawk holster for now as I still have a couple months to wait until my CCL is issued."
William and his Sig Sauer P938 in a Sig Holster
"Only one I have for it now. Really need a new one."
Ken and his Taurus PT709 Slim in a Fobus Holster
"I carry his set as my first ever handgun and holster combo as I am new to the CC lifestyle."
Bo and his Glock 43 in a DeSantis Holster (Temporarily)
"Well I spent most of my money on my gun and it didn't come with a holster I have been waiting to get one. I had a holster that don't quite fit it, I just been sticking it in there and in my edc bag until I can get more suitable carrying arrangements. It's sucks but luckily no body sees it. "
These CCW carriers need a wake up call.
Here's the deal folks. You aren't limited to buying a single gun or a single holster. Most of us gun people have huge boxes of holsters we've tried but didn't like. The professional gun carriers don't just settle for something that "kind of" works. When your life is at stake, you will want a reliable handgun that you shoot well and a holster that will safely conceal your weapon during your daily activities.
If the gun doesn't work, get rid of it! Stop carrying something that is unreliable. A mentor of mine once saw me struggling with a junky gun that had regular feeding problems. I'll always remember his advice: "Dude, that thing is a piece of shit. Dump it. That's why God made gun shows."
I would suggest that some of these folks exercise the same advice.
I understand that some people can't afford an assortment of 100 different holsters. That's OK. You just have to find one that is adequate. It doesn't have to be expensive. There are many quality holsters in the $30-$50 range. Don't settle for something that doesn't work for you when the lives of your family members depend on your gear selection. If your firearm and holster combination doesn't work, fix it.
This is a place where "good enough" quite simply isn't. Don't settle. Keep working until you find a carry combination that is safe, comfortable, and reliable.
Equipment isn't the most important factor in winning your defensive encounter. With that said, you don't want to intentionally diminish your performance by using bad gear. It's hard enough to win a gunfight when everything goes well. It's a lot harder when you have sub optimal equipment.