Written by: Greg Ellifritz
On Friday, the SunSentinel newspaper published a damning criticism of the response to last February's Parkland school shooting.  Take the time to read the article Unprepared and Overwhelmed.
When you read this, you will be absolutely sickened by the ineptitude displayed by both school staff and sheriff's deputies.
The deputies' conduct was inexcusable (and far worse than what was originally reported), but we can't put everything on them.
School staff had five opportunities to call for a lockdown before any deputy was even contacted. Four staff "security monitors" with radios saw who they recognized as the "crazy boy" walking around school grounds with a rifle. One of those staff members saw the rifle-armed former student on two different occasions. None of these security monitors got on the radio to order a lockdown or to notify police.
My advice is to train your child to act independently, get out of the building, seek cover, and call the police at the first hint of shots being fired inside the school.
It's clear from this article that the cops and the school staff will not effectively protect the children. Your kids are on their own.  Do not expect other police agencies or schools to provide significantly better responses.  I've trained a lot of schools and cops on active killer topics over the years.  I would estimate that 95% of the police departments and school staff members I've dealt with would not respond any better than the folks described in this article.
A few schools and police agencies are on the right track.  These examples are exceedingly rare.
Two other comments for those of you who study such incidents…
The gunshots triggered the fire alarm with predictably disastrous consequences. Read my articles about fire alarms during active shooting events.
Should I Pull the Fire Alarm During a Mass Shooting?
Active Killers Using Fire Alarms to Facilitate an Attack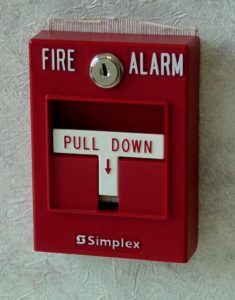 Look at the photo below.  This is what it looks like when a fire alarm is triggered during a school active killer attack.  Does the term "shooting fish in a barrel" come to mind?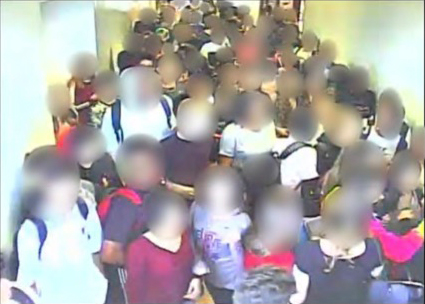 During any active killer event, fire alarms should be ignored unless there is significant evidence of a fire.  Smoke alone shouldn't prompt an evacuation unless it is present in such quantity that breathing is endangered.
This is also one of only a few active killer events where the shooter (inside the building) fired through windows outside at evacuating students. In this case the hurricane proof glass deflected the bullets. Schools in most parts of the country do not have hurricane glass.
As school staff, what are you doing to ensure evacuating students won't be shot from inside the building?
As cops, what are you doing to make sure you aren't shot on your approach to the scene?
This was one of the worst responses to a school shooting that I have seen in my two decade police career.  Readers, are you doing anything to ensure that your cops and schools don't act the exact same way?  It is only intense pressure from concerned citizens, constituents, and voters that will force government entities to improve their response plans and training.
Anyone wanting the full details about the incident should check out the 400-page final report linked here.  Opens to PDF.