Knowledge to make your life better. If you have some free time, check out some of these links this weekend.
John Johnston from Ballistic Radio interviews the owner of Dark Star Gear about the nuances of carrying in the appendix position. They talk about how your gear can be modified to make appendix carry more safe and comfortable.
Another amazing podcast I listened to this week is the interview with Massad Ayoob on Civilian Carry Radio. Mas gave the best outline of proper post-shooting police interactions that I have ever heard. He also discussed how private sector firearms training has changed over the last 50 years. You don't want to miss this episode.

The author of this comprehensive piece contacted me before it went to print. He got a lot of information from my website. It is a very in-depth analysis of the best strategies for dealing with an active killer. One of the better articles on the topic that I've ever seen.
John does a rigorous analysis of the new Alien Gear Shape Shift holster and finds it lacking. I'm not surprised. My students haven't had good luck with any of their offerings. For more information on the topic, check out my article Features to Avoid When Buying an IWB holster.
David Yamane shares some interesting data about crimes that occur during church services. Take a look at his followup article on the topic as well.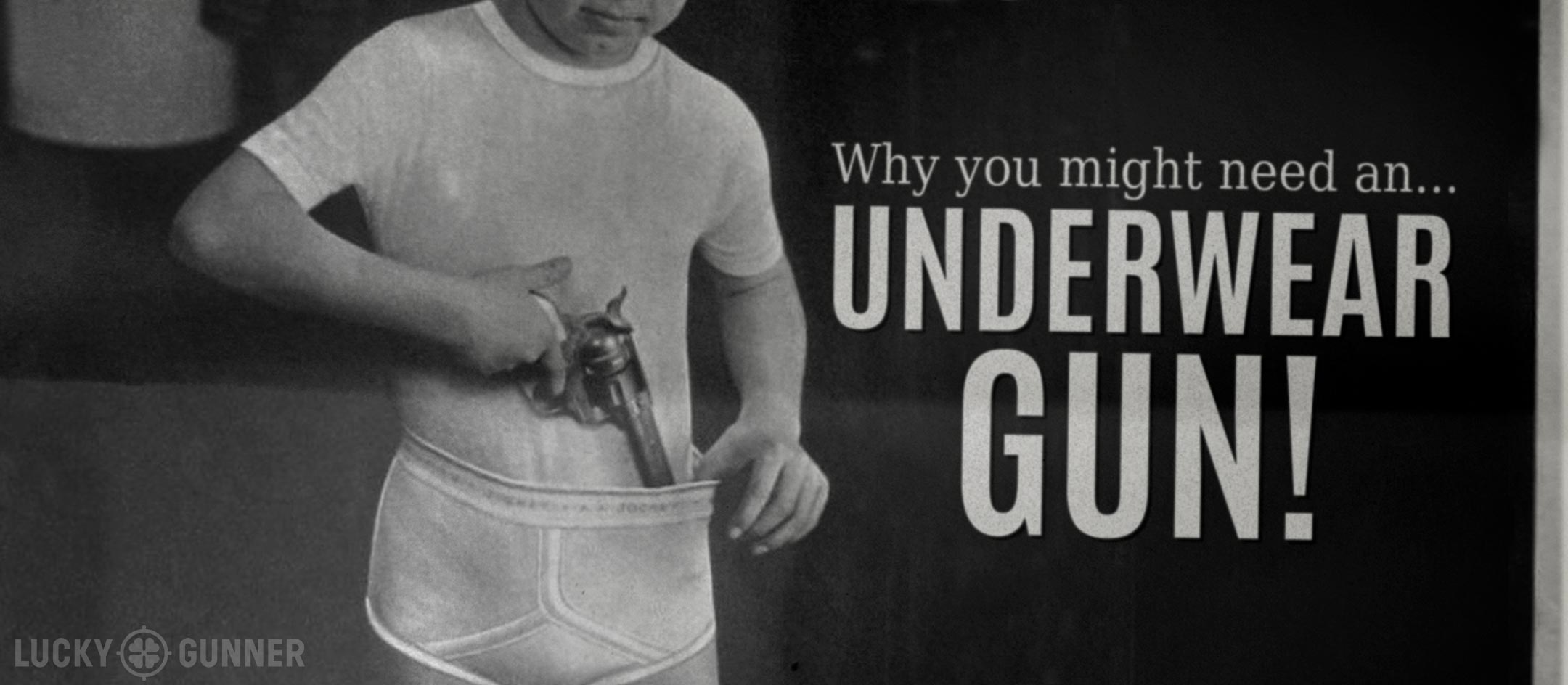 Do you have an "underwear gun?"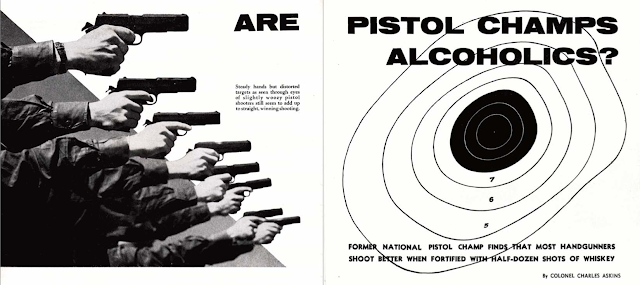 In the recent past, the idea of prohibiting the combination of guns and alcohol was not as rigidly adhered to as in our current social mores. In fact, people often found that some "group tightener" would improve their shooting scores.
Read this 1956 article about drinking during handgun competitions. The author states: "Alcohol judiciously consumed will improve the marksmanship of about nine out of ten gunners."
It poses an interesting dilemma. There are people with every possible level of skill out in the world legally carrying guns right now. There are some folks who are packing heat after only firing a dozen bullets out of a .22 pistol during their CCW class. Some states issue carry permits without requiring any live-fire training. There are people legally carrying pistols who have never fired a shot in their lives.
I would submit that those folks are more dangerous to the general public than someone like me, even if I was legally intoxicated. Even when drunk, I know that I have better judgement and better marksmanship than a whole lot of sober people who are carrying guns.
It creates an intriguing public policy question.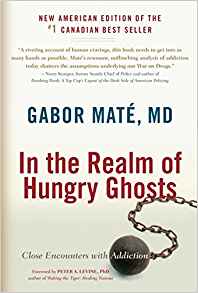 What I'm reading…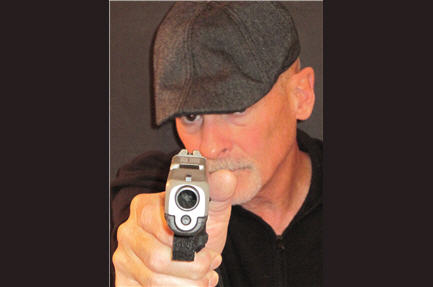 My buddy Dave drops some knowledge….

Here are some happy thoughts about one possibility for our future as a nation. Don't read it if you are sensitive to bad news. Although I hope it doesn't go down this way, your best individual strategy may be to "enjoy the decline."
Thanks to Kevin for digging up the link and posting it on his "Flash Sight Pictures" update.
I am regularly astonished by the fact that there are adults in our population who are unable to identify poison ivy. I think I learned this important skill before I was five years old. It's an easy plant to identify and avoid. If you can't recognize t instantly, read this article and learn how to identify it.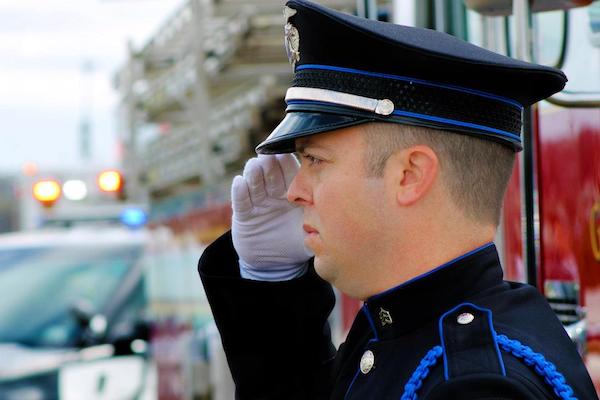 Good advice for police bosses:
"I've seen many natural born leaders in an organization get discouraged by toxic supervisors who were threatened by change or new ways of thinking. Such supervisors are set in their ways and revert to saying things like, "We've always done it this way, and that's not going to change." This type of mentality can cause the demise of an organization by hindering future growth. A good leader should welcome new ideas, assessing them fairly, and recognize that the individual that's providing fresh thought is a leader. They're putting the organization first. This is just the sort of person who should be valued and provided with mentorship that will help them continue to grow as they continue to progress in their careers within the organization. "
CCI's Stinger and Velocitor rounds are top of the heap as defensive ammunition in .22 long rifle caliber.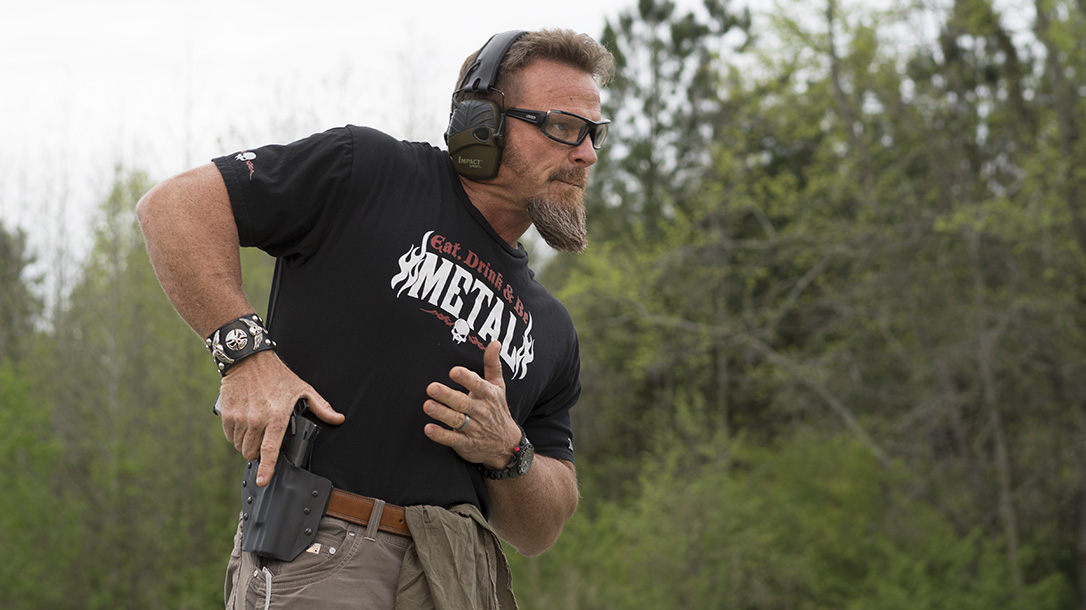 While I don't subscribe to the author's ideas about carrying guns primarily to "guard others," most of his other advice is right on.
As I've mentioned before, running away from a criminal attack may not be the optimal course of action.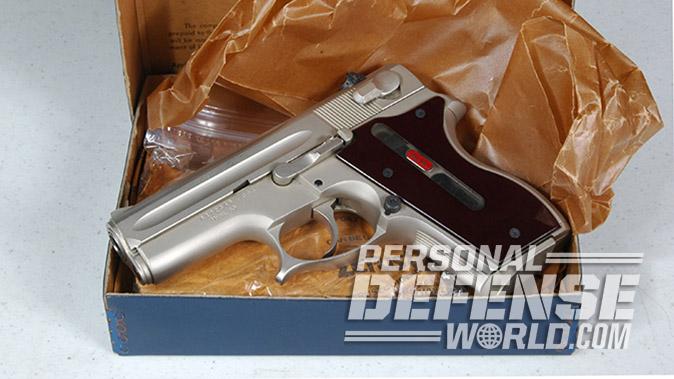 A neat history lesson.
For a little more history, read this article about the history of the break-front revolver holster.

Do your battle preparations include smoke grenades?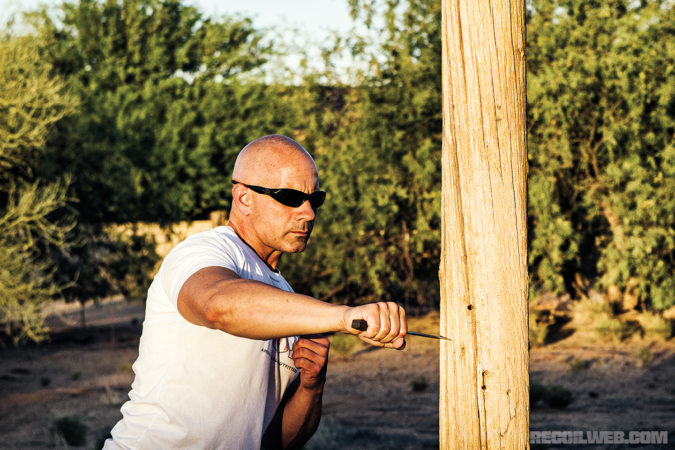 These are some good tips for structuring a solo defensive knife practice session. I used to do a lot of "hard target" training with my blades. Now I do more work on the BOB Dummy. While you absolutely must understand the need to grip your knife tightly in the event you hit a bony target, most people are pretty squishy. I don't find the punishing hard target training to be super useful.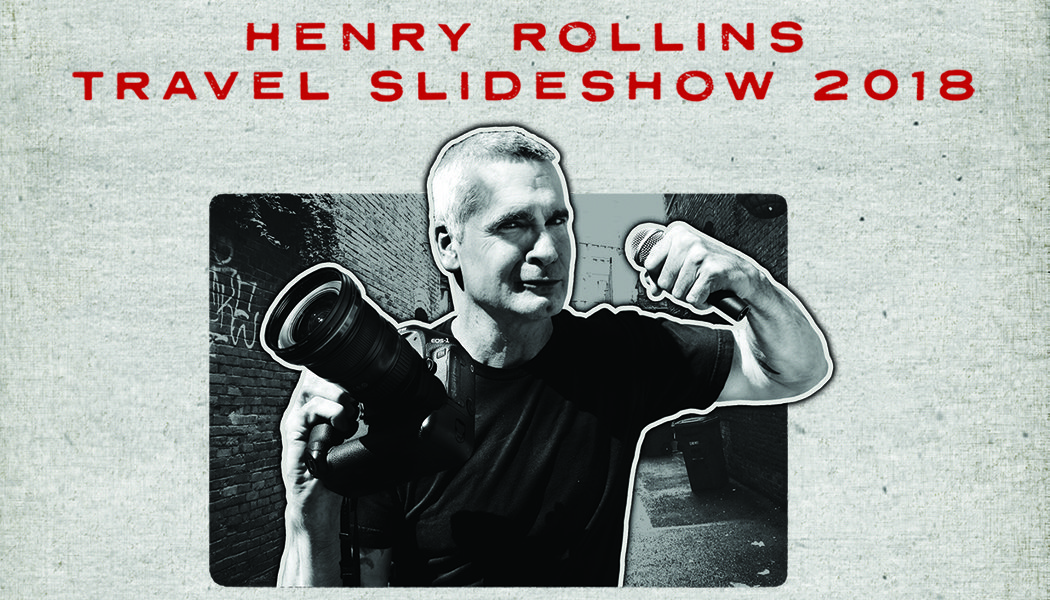 Rolf Potts shares some insightful travel tips from Henry Rollins. Rolf's book Vagabonding is one of the most inspirational travel books on the market.

I'm one of the few cops in my agency that patrols with the cruiser window down in all weather.
Continuing the conversation on the topic of police patrol, check out these statistics. "De-policing" is real.
Some of the above links (from Amazon.com) are affiliate links. If you purchase these items, I get a small percentage of the sale at no extra cost to you.