Knowledge to make your life better. If you have some free time, check out some of these links this weekend.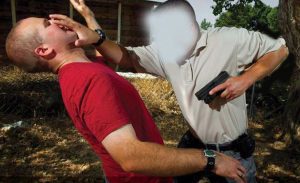 A lot of hard-won knowledge here about stopping the draw, "gun arm grappling" and drawing a firearm in an empty hand encounter. You all should read this one.
"I'll just run away." Think again. You'd better have an alternate plan as well.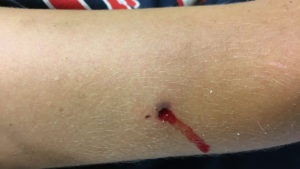 Sometimes bullets do funny things when they hit flesh and bone.
A very good list of warning signs for domestic violence originally noted in the book The Gift of Fear. If you haven't read the book, you should. It's one of the true classics in the field.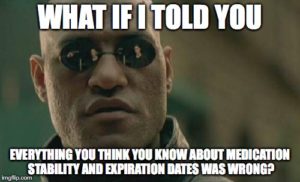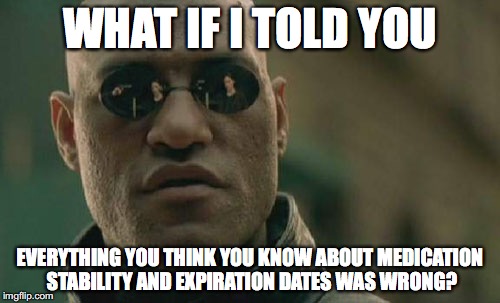 Extremely informative summary of the research on the effectiveness of expired medications. I go over this topic in depth during my Systems Collapse medical class. If you want some more information, I'd love to see you in an upcoming class.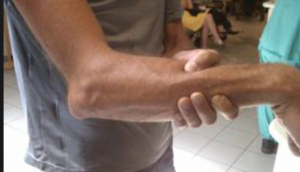 Elbow dislocations aren't especially common, but you should know how to treat them in the field if medical attention isn't available.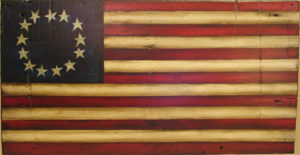 "There are no advanced techniques, but, as Paul pointed out in his comment, "…there is advanced application." You'll know you're advanced when you can do it without trying so hard. You'll know you're advanced, when you're thinking about what you're going to do, three steps ahead of where you are now. You'll know you're advanced when you no longer worry about being advanced.
Quit looking for the "Secret Scrolls of Knowledge of the Sect of Secret Squirrels," and follow Paul's suggestion: "Do the work."
Crowd-sourcing your firearms and self defense information may not be the best course of action.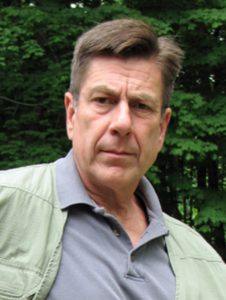 Ralph Mroz shares some innovative perspectives on the subject of police reform. For another opinion on the issue, take a look at this article on Community Oriented Policing.
Resources for fighting computer ransomware.
I'm surprised that many shotgun shooters don't know this technique. I think it's an incredibly valuable reloading skill if you happen to empty your shotgun. I've been to a lot of shotgun classes. I think ALL of them taught that the round should be fed into the chamber from underneath the gun. That has two advantages. It keeps your arm from blocking your sight line and it may make it easier to catch a fumbled shell.
I've tried loading the shell from the underside of the shotgun hundreds of times, but I still default to going over the top. Like the author of this post, I simply find it much faster.
I really like this topic. Watch Part Two Here. I find that too many grappling instructors fail to address situations of unequal armament. Furthermore, it is rare to see a grappling class that covers techniques for a grounded defender against a standing attacker. I applaud Jerry for covering this difficult topic and look forward to reading his new book Red Zone Knife Defense.
This is a topic that merits a lot of consideration. For more info, check out Are Your Instincts Putting Your Family in Danger?

"Findings indicate that the mass killers received approximately $75 million in media coverage value, and that for extended periods following their attacks they received more coverage than professional athletes and only slightly less than television and film stars."
Active killers crave infamy. If we stop making them famous, fewer crimes will occur.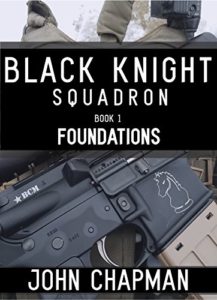 What I'm reading…
Here's a new book written by well known firearms instructor "Chappy" Chapman. The characters in the book experience a sudden EMP. I've only read a little of the book, but I like it so far. Not surprisingly, Chappy gets the guns and gear correct. Those of you who have trained at the Alliance, Ohio police training facility will recognize the setting and a few of the characters.

More and more research indicates that sun exposure is critical to our health. You should also read The Big Vitamin D Mistake. It seems that we need more than 10X the current FDA recommended amount of Vitamin D in order to remain in optimal health status.

One of the most informative articles I've seen about the relative strengths and weaknesses of the various types of knife locks.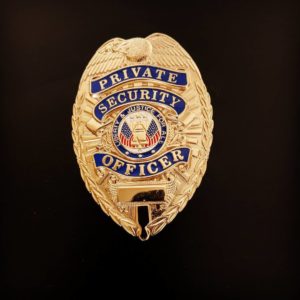 A couple months ago I wrote about a woman I had arrested for identity theft. She had stolen another woman's identity and was attempting to buy a couple new cell phones using the victim's account. That particular criminal suspect was wearing surgical scrubs and a fake name badge (bearing the victim's name) identifying her as a home healthcare nurse.
The point of that post was to clue folks in that uniforms and name badges are cheap and easy to obtain. Always look past "the uniform." Uniforms are very easy to fake. Things may not be what they seem.
Last week our officers got dispatched to a shoplifting call. Store security staff recognized a known professional shoplifter (called a "booster" in the criminal vernacular) filling up a grocery cart with an obscene amount of expensive steaks and Tide Pod laundry detergent. They knew he was about to sprint out the door without paying for the groceries.
The loss prevention officers provided a very distinctive description of the suspect. He was wearing a ball cap with the word "security" written on it. What would you assume if you saw a person dressed in normal citizen clothes (no uniform) wearing a "security" hat? Would you honestly think "shoplifter" if you saw that hat? I'm willing to bet that most of you (myself included) would assume that a security guard isn't a thief.
That's why criminals use fake uniforms and disguises. People automatically assume someone will act in a certain role when that person is wearing a particular uniform.
It's a dangerous (but completely normal) "thin slicing" phenomenon created by the brain in order to process information faster. Unfortunately, making assumptions about a person's character based on the uniform they are wearing can occasionally lead to negative outcomes.
Recognize that fake uniforms are a very real thing. Try to avoid making assumptions when you see someone who might be wearing one. As I wrote earlier, things aren't always what they seem.
This round looks like an excellent choice for shorter barreled 9mm defensive handguns.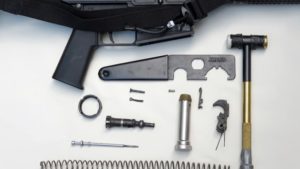 I honestly don't see a lot of the parts mentioned here breaking or going bad. It's still good to know some of the possibilities and what to look for when your AR starts malfunctioning.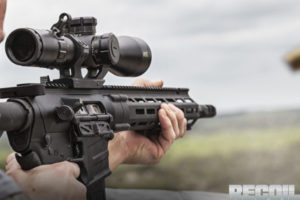 Basic Bitch here. My 5.56mm ARs all have a 50 meter zero.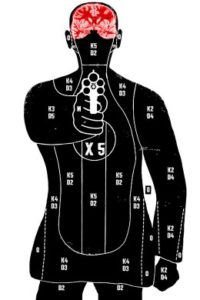 Good article about some of the commonly-experienced physical effects that occur when one is in a fight for his life. Very interesting gunfight story as well…although I don't agree with the cop's conclusion that arming school staff is a bad thing.
The article's author, Amanda Ripley, wrote a book called The Unthinkable-Who Survives When Disaster Strikes and Why. It's a book that any student of the arts of self protection and preparedness should read.
I enjoy traveling in Latin America. Most of my friends think what I do is "too dangerous." TI would urge them to take a look at the homicide rates for the Latin American countries.
In comparison, the murder rate for Columbus, OH (where I live) is 16 per 100,000. Most people don't consider Columbus dangerous, but 11 Latin American countries have a lower murder rate than even Columbus.
Many of you wouldn't turn down a trip to Chicago, yet its murder rate is over 30 per 100,000 residents. All but three Latin American countries are safer.
Consider South or Central America for your next holiday. You may actually enjoy it.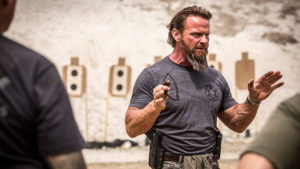 Quality training advice from Pat Mac. I just booked a training class with him for later in the year. I'm looking forward to it.
In last week's Knowledge Dump, I posted a link to Stephen Wenger's free book. Ralph Mroz is another Paladin Press author who is following suit by making his former Paladin books free downloads as well. I have both of these books in hard copy and highly recommend them.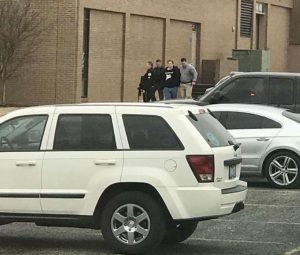 The school shooting in Kentucky last Tuesday happened before class began. Schools continue to fail to adequately prepare for shootings that occur on campus outside of normal school hours.
The problem is that 43% of mass shootings in schools during the last three years happened before or after school. I identified this trend initially in an article I wrote four years ago.
I wrote even more about the topic in a series of articles last year. Those articles have been almost universally ignored by school administrators who don't want to acknowledge the problem.
Is your child's school prepared for an attack outside of classroom hours? If not, you should share my suggestions with your child's teachers and principals.

In case the previous links weren't enough information for you, you can check out this quick summary of some of the FBI's active killer research. It's a short read and worth your time if you are interested in the topic.
Tom's newsletter this months contains a couple valuable articles. Check out his thoughts on the necessity of patterning your shotgun and the email he got from a previous student who successfully defended against a possible robbery attempt.
Some of the above links (from Amazon.com) are affiliate links. If you purchase these items, I get a small percentage of the sale at no extra cost to you.