This is my analysis of the Texas tragedy designed to explain the pertinent issues to those who don't have a background on the topic of active killer response. Additionally it should provide police agencies and school staff with some best practice guidelines to prevent such a disaster in the future.
This article is based on the facts we know now, just slightly more than a week after the shooting. Undoubtedly, some of these facts will change with further investigation. This is a rather difficult story to keep up with. The facts change every minute and lots of officials are in full-on "coverup mode." It's taking a lot of effort to find the truth. This is the best of what we know right now, but I reserve the right to alter my analysis if additional facts come to light.
My Background
I know a little bit about active shooters. I have successfully completed more than 35 active shooter/school security training classes. I've formally published a total of 387 articles on the topic. I was a cop for 25 years. I taught active shooter response at my department for 15 of those years.
I've provided consultation to more than a dozen schools about active shooter response strategy. I helped develop Tactical Defense Institute's Active Killer Response class and was lead instructor of that class for about 10 years. I continue to teach active shooter response and counter terrorism classes commercially through my company, Active Response Training.
I even responded to a real-life active shooter call in my police career (where we actually made entry and didn't stand outside waiting for SWAT). I personally escorted the responding medics into the structure and helped them carry out the injured (and dead) victims. After finishing clearing the building, I led a team of three other officers who found and arrested the fleeing killer.
Police Best Practices
Here's the crux of the issue. It's standard police response to make entry and engage any criminal who is actively killing or causing serious physical harm to another person or persons. That's been pretty much the standard nationwide for over 20 years.
It is also standard response to contain the suspect, negotiate, and call SWAT when the suspect is no longer an immanent danger to others. USUALLY, (barring a terrorist hostage siege) once the shooting stops and no one is in further danger, cops slow down, contain the suspect, and call for SWAT and negotiators.
Keep these ideas in mind as we examine the police response to this incident.
The Attack
The killer shot his grandmother in the face and then drove away from the scene in her vehicle.
He then drove to the school. He crashed shortly before he arrived and immediately began his attack. He fired on a couple of nearby bystanders (missing both) and then began walking the perimeter of the school firing shots from outside the building. We do not yet know if any of these shots caused injuries or deaths.
After firing shots at the exterior walls and school windows, the killer found a door propped open (update: now officials are saying the door was not propped, but did not properly lock) and entered the school.
Before we dig deeper, read a complete timeline of the incident's significant events.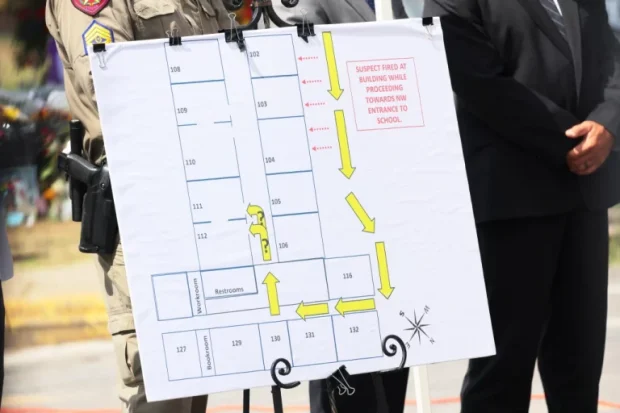 The Initial Police Response
He started shooting at 11:28 outside the school. The first cop arrived at 11:31 responding to a call about a man outside the school with a rifle. As the cop approached, the shooter hid behind a truck in the parking lot. The cop drove past him to confront the only man he saw standing outside the school.
That person later turned out to be a teacher. While the officer was dealing with the teacher, the shooter entered the school through a propped (or unlocked) door.
At 11:33 the suspect entered the school and began shooting. He fired over 100 rounds in the next few minutes. At 11:35 three officers entered the school through the same door the shooter used. They immediately began trading gunfire with the suspect, unfortunately they missed. The suspect didn't. He hit at least two of the three officers. They retreated to cover to treat their injuries and the shooter closed and locked the door to the classroom.
Within minutes, other officers arrived at the scene. The police chief declared it a barricade situation and called ordered everyone to wait.
I think in this case the problem wasn't a lack of courage on behalf of the responding officers. Seven officers entered the school and began hunting the killer within five minutes of the shooting. We can fault their tactics and/or marksmanship, but saying they didn't respond is misleading.
The director of the Texas DPS stated that the on scene commander (later determined to be the school district police chief) believed that the school shooting had transformed into a barricade situation.
"The on-scene commander at that time believed it had transitioned from an active shooter to a barricaded subject," McCraw said. "It was the wrong decision. Period."
I would argue in the Texas shooting that even if the shooting had stopped, the officers had heard more than 100 rifle shots being fired as they made entry. It's reasonable in that case to assume that there are lots of injured patients who need immediate medical care. That exigency alone would cause me to act aggressively and make entry to the classroom in order to provide aid to the numerous victims even if I didn't hear shots being fired when I was on scene.
"The killer fired at least 186 rounds from the time he crashed his vehicle outside the school to the moment he was killed, McCraw said."
Barricading and avoiding making entry into the room where the killer was holed up might be a sound strategy if no additional shots were being fired and officers didn't think anyone else was in danger. That might be a completely reasonable response.
But there are two problems with that decision. Shots were still being fired (recorded on 911 calls as late as 37 minutes after the police entered the school). Shots being fired in a school = make entry. This is no longer a "barricade situation."
Additionally, students inside the room with the killer were calling 911 and texting folks reporting many of the children were still alive but bleeding out. That also merits an immediate entry.
Remember, cops made entry at 1133 hours. At 1210 and 1216 hours, dispatch received 911 calls from a student inside the barricaded classroom noting that several of her classmates are still alive. The police dispatchers aired that information to the 19+ officers inside the school at the time.
"A 911 dispatcher can be heard to ask: 'Room 12, are we able to .. is anybody inside of the building … 2-1, child is advising he is in the room. Full of victims. Full of victims at this moment.'
'At 12:10pm she called back in Room 12 advised multiple dead. Again at 12:16pm she called back and said there were 8 to 9 students alive.'"
Almost 45 minutes after entry, the cops were advised that there are dead and dying victims located inside classrooms 11/12. There is no possible way that all 19 officers inside missed that radio transmission, yet they still chose to avoid confronting the killer in the classroom.
The chief of the school district police force was the incident commander who made the call to keep his officers from entry. This is a six-officer rural Texas school district police department. I understand that the chief may not be a tactical expert, but he should have a basic understanding of how this stuff works and should have officers he can trust to advise him about topics upon which he has no knowledge.
A southern California police supervisor writing under a pseudonym explains some of the current police leadership challenges quite eloquently.
"This is often what happens in police work, a field in which adherence to the chain of command is relentlessly emphasized. Such adherence serves the organization well under mundane conditions, but when a crisis occurs, as happened in Uvalde, Texas, on Tuesday, the chain of command does not always produce the leader the circumstances demand. When rapid, tactical decisions are called for, the highest-ranking officer at the scene may not be the most qualified to make them, and in most cases is guaranteed not to be."
Astonishingly, there are allegations that the police chief was not even carrying his police radio and did not hear the dispatch updates about children still being alive in the school. If that turns out to be true it gives us an even better idea of how inept some police bosses can be.
News sources indicate that the school police department did an active shooter training session as recently as March of this year. I wonder if the chief attended? It turned out he did not. I'm not surprised. He took the training when it was mandated by the state back in 2021, but did not attend the most recent class nor the first one his agency hosted in 2020.
I trained a lot of police agencies in my career. It was rare to see a chief in any of the classes the departments scheduled with me unless the training was a state-mandated requirement. I once had a police chief tell me that he would no longer be coming to my department firearms training classes because "guns are loud and dirty."
Speaking of training, the wife of the school district officer who instructed the department's active shooter training in March was one of the two teachers killed in the attack.
"Eva Mireles, a fourth grade teacher, was identified by her family as being one of the staff members shot dead. She had worked in education for 17 years.
Her husband Ruben Ruiz, a veteran detective and SWAT team member currently serving as a police officer with the school district, held regular active shooter drills for the schools – most recently at the end of March."
While the school district police department only has six officers. The Uvalde city police department (likely the first and closest agency called for backup) has its own SWAT team. Every one of the city cops has Level Four body armor that stops the rifle rounds the killer was firing. The department bragged about this fact on Facebook a couple years ago. I would estimate that the Uvalde SWAT team could mobilize and respond to the school much faster than the Border Patrol. Where were they and why didn't the chief use them to force entry if he felt his own officers were unequipped for the task?
It seems that the Uvalde tactical team did respond to the scene, but were ordered to stay outside. Officers stated that they were working on a plan to circumvent the chain of command.
"We were boiling over, planning to go in on our own," when a tactical unit arrived from the Border Patrol, one officer said. They, too, were told to wait outside."
Unfortunately, they "boiled over" for more than an hour outside without ever actually implementing their plan.
More than 150 total officers responded to the incident. Some executed their own independent entry and rescue missions. At least one parent entered the school after escaping police custody and rescued her two children.
I promise that some of those cops (and likely many of the bystanders) knew exactly what to do. Why didn't the chief listen? We don't know yet. He hasn't made any statements or attended any of the press conferences. I hope that information comes out. So far the chief has not responded to the Texas Rangers' request for an interview.
Eventually, the Border Patrol tactical team decided to ignore the incident commander and make entry into the classroom. They (along with some other officers tagging along) killed the murderer.
Many media outlets ran stories about officers assigned perimeter duties outside the school arresting and physically intervening when parents and bystanders got sick of the poor response and attempted to make entry on their own. I don't fault those officers. It was their job to prevent anyone else from entering an active crime scene.
The would-be rescuers could be mistaken for additional attackers and shot by the cops inside. If a rescue mission had been initiated from inside the school, having unknown subjects running around the school would slow that response as officers assigned to rescue and breaching tasks would be forced to divert in order to deal with the intruders. The parents might also become hostages themselves and would most certainly disturb evidence at the scene.
It was a good idea to keep the parents out. The only school shooting that I'm aware of when parents made entry was the hostage scene in Beslan. Those responding parents created chaos, shot each other, and interfered with the police/military response. They did not rescue any children.
I can understand the parents' frustration. That frustration should have been directed at the inept leadership making the call to contain the suspect in a room full of victims. The cops on the perimeter made the right decision to deny parents entry into the school.
Could this have been prevented?
The shooter here was a very disturbed individual. Interviews with his friends after the shooting show that the killer had a very troubled past. He was reported to social media app Yubo for making violent threats to several young girls. He killed cats and carried the dead bodies around in a bag.
The killer wasn't as publicly overt about his plan compared with other killers in the past. There were, however, a couple of opportunities for an early intervention.
A few days before the shooting he strangely interviewed a distant relative who had a child in the school about some of the school's operating procedures.
"Shelby Celeste Salazar said her son was a third grade student at Robb Elementary School in Uvalde, Texas, where her 18-year-old cousin opened fire Tuesday in a horrific shooting spree that killed 19 children and two teachers.
Speaking to DailyMail.com in an exclusive interview, Salazar, 28, said days before the massacre, Ramos had spoken to her son and had asked him which school he attended and what time students were let out for lunch.
'At the time I didn't think anything of it, they had a good relationship. They are second cousins,' the mother-of-four said."
Why would an 18-year old care about elementary school lunch hours?
Even before that, he made some vague social media posts that could have been considered threats.
"Ramos had hinted on social media that an attack could be coming, according to state Sen. Roland Gutierrez, who said he had been briefed by state police. He noted that the gunman "suggested the kids should watch out," and that he had bought two "assault weapons" after turning 18.
Investigators believe Ramos posted photos on Instagram of two guns he used in the shooting, and they were examining whether he made statements online in the hours before the assault, a law enforcement official said."
Immediately before the attack he also messaged some folks on social media about his plan of action.
"There was "no meaningful forewarning" of a shooting Tuesday at an elementary school in Uvalde, Texas, except for a series of messages on the gunman's Facebook page around 30 minutes before the attack, Texas Gov. Greg Abbott said Wednesday.
Ramos wrote Tuesday, "I'm going to shoot my grandmother," Abbott said at a news conference. He then wrote a follow-up that read, "I shot my grandmother."
Around 15 minutes before the attack at Robb Elementary School, Abbott said the gunman wrote his last message: "I'm going to shoot an elementary school."
The governor described the shooter's messages as posts, but Meta, the parent company of Facebook, says they were one-on-one private messages."
Additionally, his strange actions prompted a discussion about him being a potential school shooter on Instagram.
In hindsight, all of these events point to the shooter's depravity, but likely weren't actionable by school employees or police. The only chance for an earlier intervention was if the kids he messaged on social media had reported the messages to the police. It seems like they did not.
Immediate Lessons Learned
A lockdown failure facilitated the attack.
If the shooter hadn't entered the propped door, his body count would not have been so high. Schools need to do more to prevent this type of failure. Schools should explore technology that monitors/alarms all exterior doors that aren't designated as the school's single point of entry.
All nursing homes have door monitoring systems to prevent dementia patients from escaping. I don't see why a similar system couldn't be adapted for school use, alerting staff about a potential security breach.
During a school lockdown for an exterior threat, designating the teacher closest to each exterior door to visually verify the exterior door is closed before locking down the classroom might be beneficial.
Additionally all teachers should have the ability to initiate an immediate school lockdown.
Technology similar to this
might facilitate such quick lockdowns.
Do all employees (including support staff, substitutes, and temporary workers) understand the school safety policy?
"After shots started ringing out, a cafeteria worker who had just finished serving chicken tacos to 75 third-graders said a woman shouted into the lunchroom: "Code black. This is not a drill!"
The employees didn't know what "code black" meant but closed blinds, locked the doors and escorted students behind a stage, said the worker, who spoke on condition of anonymity to avoid publicity. Some staff then took refuge in the kitchen."
This is unacceptable. Every person in the building should know exactly what to do when the shooting starts. Using ridiculous code words to trigger an emergency response is a bad decision. The kids know what's happening. The shooter knows what's happening. Use plain language to communicate what you want everyone to do.
Prioritizing Escape
In a school, escape should be a priority during an active shooter event. The thought of actively escaping when safe to do so is fundamentally different than the idea of barricading and hiding. For the last 20 years, schools have practiced barricading and hiding. Students are used to the idea and comfortable with the tactic after regular practice. When that happens, getting them to flee the school becomes harder and harder. Cops broke the glass in several classrooms to facilitate an escape.
Some students didn't leave
.
"After he escaped he watched as police smashed the windows of the classroom beside his and saw that only four students crawled out."
The success of a barricade and lockdown response to an active killer is predicated by an aggressive police response that finds and neutralizes the attacker. We now know that isn't guaranteed. Maybe we need to alter school responses to adjust to the reality of inept police officers' inaction.
Almost all schools now practice lockdown drills. Few practice escape drills. That's no good. Teachers should be given the authority to evaluate the situation and make "game-time" changes to the official school safety plan.
After 25 years of studying these incidents, I'm convinced that escaping a school shooting has the best overall outcome for the child victims. During a school attack, students and teachers should be taught that if they can't see the gunman, they should escape the school via the closest exit that moves them away from the audible gunshots.
That drill must be practiced to work successfully. School administrators are massively fearful of losing accountability for the students in their care. I would argue that knowing exactly where a student is might be less important than making sure the kids can get away from danger.
As parents, you should have a pre-designated rendezvous site to meet your student should he/she have to flee a school shooting. Empowering teachers to utilize their best judgement with regard to whether to escape or barricade must be more commonly implemented across the country.
Better Preparation for Attacks Commencing Outside the School
The outside attack initiation is becoming commonplace for school shooters. Many public buildings have been hardened, making it more difficult for an active killer to make entry. The killer wants a big body count so he starts shooting from the outside so that he can still rack up some casualties even if his entry plan is frustrated.
I believe that every school and public building should have a response plan in place should the building start receiving fire from outside. Unfortunately, that's an area of preparation that is rarely explored. Defending Police Departments and Government Buildings from Active Killer Attacks might be a good place to start learning about the issue. While geared for government building protection, the same strategies can be used for schools. I'll also note that both the Parkland school shooter and the Columbine killers also fired from outside the building.
We're starting to do a better job securing our schools. The shooters know once lockdown is initiated, they will have a limited pool of victims to kill. We now need to focus on ways to best prevent or respond to attacks initiated from outside the building.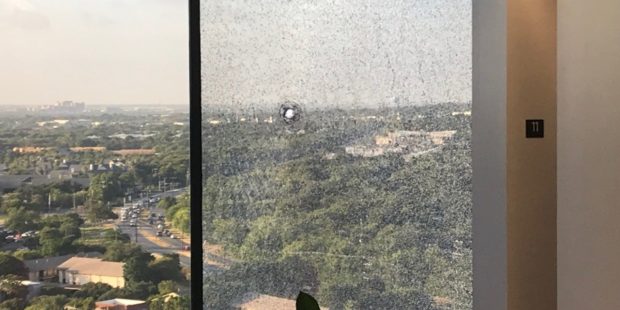 Police/school notification policy for parents
As I waded through hundreds of articles preparing to write this piece, I was struck at the massive number of complaints from parents that the police and school district didn't quickly communicate the safety status of each student to his/her parents.
"Nearly half a day later, cops broke the news to the boy's family.
'Our entire family waited almost 12 hours since the shooting to find out Rojelio Torres, my 10-year-old nephew, was killed in this tragedy,' Torres' aunt, Precious Perez, told KSAT. 'We are devastated and heartbroken. Rojer was a very intelligent, hard-working and helpful person. He will be missed and never forgotten.' "
Unacceptable. Waiting 12 hours to learn if your child is dead or alive is completely unreasonable. Schools and police agencies need better practices to ensure that the victims' families aren't traumatized even more by ensuring timely and accurate communication with the students' families.
Predictive Policing
It's actually fairly common to see active killers begin by shooting family members. I first wrote about this phenomena in 2014. One FBI study found that in about half of all mass shootings, the killer's family members or intimate partners were first targeted.
I've mentioned in the past about how it is critical for police to do a "well-being check" on the families of any active killers who are neutralized or arrested. It might be worthwhile to consider the opposite as well. When cops get reports of a shooting with a mobile attacker they shouldn't just focus on the crime scene, but instead attempt to predict where the next shooting will occur given what they know of the suspect's background.
While one of the first mobile active killer attacks was the Virginia Tech mass shooting in 2007, the trend of active killers driving between multiple crime scenes became commonplace around 2013. The number of mobile killers appears to be increasing. Cops need to understand how to best apprehend that type of active shooter.
Armed teachers need training with regards to "entry versus contain."
There are likely thousands of armed school staff members across the country with varying skill levels. If the cops are screwing up the entry/contain decision, one can bet that lesser trained school staff members may also be confused.
If armed school staff are the first responders to events like this, they must be trained when to open a locked classroom and engage an active killer and when to contain that killer and wait for help.
Following that line of thought, school security might also need master keys, breaching equipment and the knowledge of how to open locked classroom doors.
Responding cops need keys to both the exterior doors and the classrooms.
Keys or fobs could be issued to police officers or the department. They could also be placed in a Knox Box outside the school. Finally, schools could organize a "welcoming committee" to meet the police on their arrival and give them keys.
In school districts, usually each individual classroom is keyed differently. Most teachers only have the ability to gain access to exterior doors and their own classrooms. It is usually only the administrators and the custodians who have "master keys." It might be a good idea during a lockdown to make a custodian responsible for meeting cops outside, giving them the master key, and then explaining how to get to the incident location.
Cops should know if such policies exist within the schools in their jurisdiction. If not, they should be carrying breaching tools or ballistic breaching capabilities in order to force entry into classrooms if they cannot obtain a key.
Medical supplies in every classroom or in common locations.
We don't know if the shooter's rounds fired outside hit any of the students or staff inside. If some of those folks got hit and then locked down in their classrooms, how would they access lifesaving medical supplies?
It would be best to have a trauma kit in every classroom, but that solution would be expensive. Having "Stop the Bleed" kits located at regular intervals in common hallways might be another option, but may be more dangerous to access when a killer is in the school.
Further Implications
Almost two years ago, I wrote an article titled
The Future of American Policing.
In the article I discussed four different factors that would change the way the public would think about police officers.
One of the four factors was:
3). Distrust for and politicization of all government entities. Public approval of almost all government functions is at an all time low. The generalized distrust of government and politicians will further erode the public's support of the police and young applicants' desire to become part of the system.
In the article, I discussed how this distrust of government will create a split between the wealthy and the folks who are just trying to stay afloat. In essence, the experience in the USA will be very similar to the policing situation in the developing world.
There, in the most affluent neighborhoods you don't see many cops. But there are professional armed security guards at all banks, many public businesses and on roving patrol in marked vehicles in the neighborhood at night.
In the poorer neighborhoods, you don't see many cops either. They'll respond to something serious, but don't expect them to investigate some kind of minor property crime without a significant bribe.
Most of the lower class residents ignore any petty criminal stuff. They band up with family or friends to handle any serious business. Sometimes the residents will pay the local criminal gangs to take care of such problems instead if they have some extra cash. The bad guy gets beaten or taken out. The cops don't work hard to find the perpetrators of these crimes because they know exactly what is happening.
I predict this type of public/private division will be the most likely way things will devolve in the USA. The wealthy will take care of themselves by paying private security and bribing corrupt cops to gather dirt on enemies and political rivals. The poor will be left to handle things themselves without significant productive police presence.
I see the Uvalde shooting as the catalyst for the large scale implementation of this change. The public has completely lost trust in its policing system. This incident highlighted that issue more than any of the other past events.
Moving forward, I think we will see affluent school districts providing their own competent security and ignoring the police response. That might shift the preponderance of school shootings away from affluent suburbs and toward more rural or inner-city school districts with reduced protection.